THE GOOD, THE BAD, AND THE UGLY: The Post-Season
—Peter Schilling Jr.

THE GOOD: The Florida Marlins
There can really be only one good at the end of the postseason, and that's the winner. The Florida Marlins were not handed anything; they didn't benefit from a cadre of iron gloved defenders on the opposing team—they won with what I'll call "Kitchen Sink" baseball… everything including the kitchen sink. Homers. Stolen bases. Bunts, and the dreaded sacrifice bunt. They won with pitching and all around smarts on the part of Jack McKeon, he who played bongos in New York late into the night. Like the Anaheim Angels before them, these Marlins jelled at the start of October (you could also suggest that they, like the Angels, gelled earlier and kept it going through the playoffs), and never let a team like, oh, the New York Yankees, to faze them.
We saw perhaps a brilliant future for this team in players like Josh Beckett, Juan Pierre, and Babyface Cabrera. We saw old-timers get their due in McKeon, Pudge and Mike Lowell. And we saw what could be the end of the Yankees dynasty (though I wouldn't hold your breath). I'm hoping against hope that a new baseball town is created, and I don't mean that I want some taxpayer-funded pleasuredome down in the land of the hanging chads. The populace is ripe for a long love-affair with a hometown crew, and these Marlins might just be the key.

THE BAD: The Chicago Cubs and The Boston Red Sox (not to mention the Hanshin Tigers)
So there was this crazy dream, this vision of the two storied losers coming together and meeting in the World Series. Two old school clubs, playing in those so-called rickety stadiums, not new pleasure parks or former football stadiums or domes, but concrete and steel clubs, in cities where it gets mighty cold. They would play in front of big green walls or autumn-gold ivy, and the world would be split between them: Red Sox fans or Cubs fans, city of the Brahmin, city of baked beans and salt cod, struggling against the hog butcher of the world, city on the make. They would thumb their noses at the curse, whatever curse, and make this the greatest postseason in the history of baseball.
Didn't happen. And it didn't happen because some cruel God loves fooling with us. No, this didn't happen because some poor schmuck named Bartman reached up (not out) and grabbed a ball that a Cub probably wouldn't have caught. No, it didn't happen because of a team that couldn't put it away, couldn't take one of three games, the last two at home, couldn't take the pennant behind two of the hottest pitchers in baseball. And as for the Sox, well, Grady Little pretty much takes the rap for that one.
We can bellyache all we want about curses, but in the end these two teams stared at the grail and turned away, fearful of its power. And we were left with the Yanks and the Marlins. Even though it was a decent series, and didn't go the Yanks way, there is no way on earth anything could have lived up to "what coulda been".
On a Japanese Note: The Hanshin Tigers also blew it. Up three games to two, the fabled Tigers—the Cubs of Japan—also let a so-called curse do them in, this one in the form of a plastic Colonel Sanders. Scoring but two runs in the last two games, what could have been possibly the greatest post season worldwide turned out only to have been a decent one, unstoried, grounded in reality, and not the stuff of dreams.
THE UGLY: Fox Sports coverage of the World Series
Let's be honest for a second: Fox Sports isn't so bad. And neither is Tim McCarver. Christ, if there's one thing that rattles on incessantly and repeats itself more than Mr. McCarver, it's the legion of bloggers out there that just loathe the guy. If you actually pay attention and ignore his failings—and they're in abundance, that's true—you can pick up some interesting tidbits. For instance, Juan Pierre's gloves. I didn't realize that when a guy like Pierre is on base, he carries his batting gloves because they force him to keep his hands in a fist. This actually protects the hand when sliding back on a throw to first. McCarver didn't make as many blunders as Al Leiter or Bret Boone, both of whom routinely misstated where guys were on base, and were corrected continually by Jack Buck about the state of the game at hand. Sure, both players brought interesting insight about pitching and fielding and batting, but give them time, give them a regular broadcast, and the same people that hate McCarver are going to gripe endlessly about them as well.
On the other hand, both McCarver and Buck had these flubs: McCarver fawning over Jeter's dumb plays, mentioning Leonardo DiCaprio, or the fact that Fox can't seem to stop showing the idiots that people their silly television shows. Good seats are being given up to the cast of "That 70s Show?" And why do we see Robin Williams or Don Shula instead of the elusive die-hard Marlin fan that I just know exists somewhere? All of this stuff could get hacked out of every broadcast, and you'd have a great World Series broadcast. Is it too much to ask that David Cassidy never step foot in a baseball stadium again? I don't think so.
2003: "NOTHING NOBODY DOES NEVER HURTS IT"
—Jeff Kallman
Huntingon Beach, CA
"We try every way we can do to kill this game," Sparky Anderson once said, "but for some reason nothing nobody does never hurts it." As usual, Anderson's Law was upheld rather pointedly during 2003, though not always as one might have preferred.
Seasonal beginnings: A 23-year-old Baltimore Orioles pitcher, Steve Bechler, ran a temperature of 108 degrees after a rigorous spring training workout and died within 24 hours, prompting ephedra to make the list of presumably banned substances and his widow to litigate her grief. A passel of Hall of Famers debated whether Pete Rose should be allowed in if and when he is prepared to own up to his actual or alleged crimes against the state of the game. Seasonal continuings: Baseball Prospectus did its best to make it a moot point: that strikingly provocative Website broke the news that Rose and Major League Baseball were cutting the deal by which Charlie Hustler would be allowed to return to baseball in 2004. MLB denied, Rose for a change kept awfully quiet. Seasonal endings: While the Florida Marlins were sending the New York Yankees home without a World Series trophy, a San Francisco nutrition and conditioning specialist came under such suspicion for dispensing the so-called hidden steroid THG that at least two major league players (Barry Bonds, Jason Giambi) who have used his company's services, were called to testify.
The year also began with a pleasant surprise of a speech – ok, on his terms it qualified as a speech – from Sandy Koufax, at the annual Baseball Assistance Team dinner. "I'm not saying this just because he's been my friend for fifty years," said the classy Koufax, after unexpectedly asking for the mike at the ceremony's end, "but I can't help wondering why Fred Wilpon is the only owner here tonight." It ended with News Corp. making the Los Angeles Dodgers safe for Koufax again, agreeing to sell the team to a group headed by Frank McCourt. (An ugly rumour, published in a News Corp. flagship sheet, about a non-existent deal to cover up his non-existent homosexuality in return for his benign cooperation with a very handsome biography, provoked Koufax to sever his half-century relationship with the Dodgers as long as News Corp. owned the club.)
Umpires and pitchers did not keep awfully quiet about something called QuesTec, purported to strike zone accuracy and pitching migraines in the same breaths. None kept as unquiet as Curt Schilling, who tried to hit one of the machines out of the park. Mo Vaughn finally ate himself out of the park, or at least out of game shape, turning his knees into hazardous materials, something everyone except perhaps the Mets who dealt for him a year earlier could see coming. Small wonder the Mets finally cashiered general manager Steve Phillips. Atlanta Braves fans had to get used to life without Tom Glavine, who agreed to get used to life with today's Mets, who only wish they had the Braves' problem of a twelfth division championship and nothing to show for it but one World Series title out. Albert Pujols became the greatest almost-unknown player in the National League. Alex Rodriguez began getting restless over the Texas Rangers' inability to put a winning team around him, but by season's end he wasn't as anxious to be traded as enough teams were pondering how to make it happen.
Sammy Sosa proved a real corker on a broken bat grounder. Baseball's top cop told him to put a cork in it for seven games. The Bat Police found nothing suspicious in any of his other working bats or those he sent previously to the Hall of Fame. And the nation behaved as though cheating had been uninvented until the Age of Ten Gazillion Dollar Players. Those were Gaylord Perry, Norm Cash, Graig Nettles, Lew Burdette, Don Sutton, Tommy John, Billy Hatcher, George Frazier ("I don't use foreign substances – everything I use is from the good ol' U.S. of A."), Whitey Ford, Elston Howard (he used to scrape a ball on his shin guard buckles for the Chairman of the Board), Bobby Richardson (yes, children, the Right Reverend was set up to get a gimme to make a .300 batting average for 1959 – only nobody told his buddy Albie Pearson, who made a diving catch on the liner), Preacher Roe, and the Shibe Park grounds crew (they sculpted Ashburn's Ridge up the third base line, the better to facilitate the future Hall of Famer's dead bunts staying fair) you heard snickering in the background. Sosa ended up a lot better off than a Cub minor leaguer whose career ended before it really began, after the young man threw a little chin music at…a pelican on a perch.
The Anaheim Angels aren't going to Disneyland anymore, thanks to a new and (so far) energetic owner, though they did seem for long enough to be going on the disabled list. Between that and offseason inertia, the Angels defended their World Series championship the new old-fashioned way: by barely holding on at the All-Star break before a five-game thrashing by the Baltimore Orioles sent them irrevocably out of the races.
Bienvenu, Monsieur Gagne, hailed Dodger broadcaster Vin Scully whenever a certain relief pitcher trotted in from the bullpen to start the ninth inning. Le souffler hors votre oreille, bellowed the National League in reply.
"If we lose 119," said a Detroit Tigers catcher, A.J. Hinch, in August, "that's better." That is precisely what the Tigers did lose, in their futile campaign to out-Amaze the 1962 Mets. The 2003 Tigers merely sucked; the 1962 Mets sucked…with style. If the nation needed a reminder, Jimmy Breslin's microcosmic, indispensable review of that impeccable comedy of errors, Can't Anybody Here Play This Game, was republished. ESPN even went to the trouble of commissioning a computer to run off a Pratfall Classic of seven games between the 2003 Tigers and the 1962 Mets. The Tigers even sucked in cyberspace. Alan Trammell, you're no Casey Stengel.
David Wells composed a worst seller whose tales of Yankee panky probably cost him more in a team fine than he was likely to earn in royalties. Then, his proud absence of proper conditioning and nutrition helped cost his team a World Series when he left Game Five with a recurring back problem after one inning's work – the day after he bragged about his proud absence of proper conditioning. Jose Canseco continued threatening to write a tell-all book, this time from behind a jail cell's doors, where he was locked up on probation violation and steroids charges. (His twin, Ozzie, a former major leaguer, got a year in the cage for violating his probation over a barroom brawl in 2001.) Bill "Spaceman" Lee didn't threaten to write another book, he just up and did it. Anyone who can quote Humphrey Bogart, A. Bartlett Giamatti, Adlai Stevenson, Roger Angell, William Jennings Bryan, Albert Einstein, Rene Descartes, Sandy Koufax, Henry Aaron, A.J. Liebling, George Satayana, Casey Stengel, and Tallulah Bankhead in the same surrealistic volume, can't be all that bad.
Randall Simon was a smash with "Sausage Grinder's Swing." The Homestead Expos were boffo in San Juan. Manny Ramirez was floppo on the postseason waiver wire. Lou Piniella once again led the league in base throwing. Larry Bowa once again led the league in inspiring enough of his players to wish him a necktie party. A new home inspired lots of power hitting in Cincinnati. Occasionally, it happened in Reds uniforms, too. The Reds canned their general manager before conducting a mini-fire sale. The Pittsburgh Pirates held a mini-fire sale without canning their GM. A San Francisco Giants fan arguing with a pair of Dodger fans outside Dodger Stadium after a game was shot to death for his trouble.
Gary Carter and Eddie Murray made a Hall of Fame audience think while Bob Uecker made it laugh. Roger Clemens made an arduous run at nailing his 300th win, en route his retirement. Greg Maddux became baseball's second pitcher ever with fifteen straight 15+-win seasons, behind Cy Young. Dontrelle Willis reminded people of Fernando Valenzuela. No, it was Juan Marichal. No, it was Luis Tiant. Willis had more movements than the Water Music. Barry Bonds got into hot water (what a surprise) for daring to compare himself to Babe Ruth. The All-Star Game was turned into the linchpin for home field advantage in the World Series, and a Texas third baseman (Hank Blalock) made it so for the American League pennant winner. And the game was a rip-roaring play in spite of it. Fat lot of good Blalock did the Yankees, who survived the Minnesota Twins and the Boston Red Sox, the former by effort and the latter by yet another supernatural manifestation of classical Red Sox (lack of) fortune.
First, however, the world proved woefully unprepared to accept a bitter rivalry between…the Chicago White Sox and the Kansas City Royals. At August's end: they were fighting tooth, fang, and claw for the American League Central. At September's middle: they were fighting tooth, fang, and claw to make sure they didn't look too bad behind the Twins' resurrection. The Philadelphia Phillies were thought to have a lock on the National League wild card. The Marlins said, "Think again." The Oakland Moneyballers, as usual, were gone in the postseason's first round. So were the Braves, and just as quickly. The Giants were dispatched by a man resurrected from the old baseball folks' home, a catcher who had to "settle" for a one year, $10 million contract, and their exposure of themselves as useless enough when Barry Bonds is not allowed to hit, for that to happen. It didn't help that Ivan Rodriguez is just as good at plowing a ball out of an opposing catcher's hand at the plate as he is in keeping enemy first basemen from doing likewise to him at the plate.
Royko's Law: The team with the most ex-Cubs loses. Will's Law: The Cubs win when they win because they have the fewest ex-Cubs. The fewest ex-Cubs came to within five defensive outs of winning their first National League pennant since a then-hometown manufacturer ceased making the implements of war and returned to making Sunbeam appliances. Then a fan in the wrong place at the wrong time reached for the wrong foul ball at the same time Moises Alou reached up from the field. Then a tiring Mark Prior returned to work and a usually sure handed Alex Gonzalez booted a routine double play hopper. Then the Marlins pushed eight runs home and stole a prospective Cub pennant. Then Josh Beckett secured the theft with a turn of sterling seventh-game relief that proved a dress rehearsal for his World Series virtuosity.
Grady Little made a commitment to Pedro Martinez's heart and was rewarded (thanks to a Yankee tie, a Red Sox inability to break said tie, Aaron Boone breaking Boston's heart with a walkoff, twelfth inning, leadoff shot to the left field seats, off a tired knuckleball pitcher, and Red Sox Nation's near-unanimous opprobrium) with his head on a plate, leaving the Red Sox to challenge the Orioles for who can ponder the most managerial candidates. Meanwhile, the Yankees took their home field advantage and the Marlins – they who had been down so low the Collins Avenue sewers looked like up to them – shoved it, in a rippling six-game World Series that almost eclipsed the rippling of the League Championship Series. And all George Steinbrenner could do about it (so far) was huff and puff and…fire the team's hitting instructor. Maybe it was the best he could do – if you don't count replacing him with Don Mattingly – after world seniorweight champion Don Zimmer spoiled his fun by quitting the day after the World Series.
The Great Umpire, as alas he must, called some distinguished men safe at home. Larry Doby followed Jackie Robinson as a color line breaker (in the American League) but waited longer to get into the Hall of Fame than he waited to get respect and affection. Bobby Bonds hit 332 major league home runs and fathered 658 more. Al Gionfriddo carried the cash from Pittsburgh to Brooklyn (as was said when Branch Rickey made the deal to make him a Dodger) and carried a home run away from Joe DiMaggio in the 1947 World Series. Dave DeBusschere died with the lowest lifetime earned run average in the history of…the National Basketball Association. And Claude Passeau went to his reward as the last man in Cub history to pitch a World Series shutout. When not measuring poor Steve Bartman for a firing squad, Cub Country does its level best to convince itself Passeau will not spend eternity with the same distinction.
Perhaps it is just as well. A Cub-Red Sox World Series would have ended in the seventh game, in the bottom of the ninth, in Fenway, with the bases loaded, two out, Kerry Wood in relief of Mark Prior, the game tied at 0-0, and a full count on, say, Mia Hamm's future husband, and an explosion of thunder followed by a corpulent Voice: Game, set, and match, Me. I've been grooving on the act for too many years, and I just don't have the heart to let it end the old fashioned way. I can't decide between you. Neither of you should have to lose. May My countenance shine down upon you both, and grant you peace. And let's do it again...in another eighty-five years.
If not another eighty-five weeks…

THE GRADY CRUNCH
—Jeff Kallman
Huntingon Beach, CA
Those who believed the Boston Red Sox would pick up Grady Little's option for 2004 could probably fit into a Mini Cooper coupe. As for those who believe the Red Sox are making a colossal mistake, it may take a slightly larger vehicle. And the chauffeur will likely be Pedro Martinez.
"There's no reason to blame Grady,'' said Martinez. "Grady doesn't play the game, I do. If you want to judge me or curse me or whatever, I will swallow that, because I am responsible.''
From the hour of Red Sox's grief through the day they threw out the first manager of the postseason, assuming the load for himself and absolving his boss, Martinez showed us the best side of himself in ways we forget him capable of showing. As if he had a choice, once his manager gave him the option to choose. When the inmate is allowed to run the asylum, he'd better be accountable when the asylum implodes.
Considering the past performance papers, it was somewhat astonishing that Martinez was left in the game to open the Yankee eighth, never mind still being in when the Red Sox had the Yankees five defencive outs away from wait-till-next-year. Like Johnny Keane with Bob Gibson in ancient times, against ancient Yankees, Grady Little made a commitment to Pedro Martinez's heart.
Maybe Little let a little foolish pride overtake a little baseball sense, with lefthander Alan Embree warm and ready, Bernie Williams on base, the Red Sox lead closed up to 5-3 (Williams had singled home Derek Jeter, who'd ripped a one-out double off the right field wall), and a pair of lefthanded hitters, Hideki Matsui and Jorge Posada, looming for the Yankees.
Maybe a little foolish pride made room enough for Matsui to bounce a ground rule double over the right field corner wall and Posada to send both men home with a flare single to center, before Little finally brought in Embree to get rid of Jason Giambi and Mike Timlin to walk the bases loaded before getting Alfonso Soriano to end the inning on a tricky forceout with the game tied at five.
Maybe Little was a little too stubborn in ignoring his bosses' inclination toward statistical measurements, among which rests the incontrovertible point that Martinez has rarely if ever been a pitcher good for more than seven innings a start. In 288 career starts, Martinez has 41 complete games (that's 14 percent), and he was gassed clearly enough by the time of Jeter's double and Williams's RBI single. Heart the man had in abundance. Stuff remaining he had in paucity. It would be no crime to acknowledge that Pedro Martinez is no Bob Gibson.
And maybe Little sounded a little foolish suggesting that he had "people on the field throughout that seventh game thinking about Bill Buckner."
But his bosses did not mind looking too foolish announcing the option being dropped with the other shoe, when they made Little the man seem a candidate for sainthood. Who would have thought the day to arrive when the government of the Red Sox would sound as though they took lessons in rhetoric from the Evil Emperor himself?
Yet, it is probably a waste of breath likewise to remind Red Sox Nation and its observers that the worst to happen, at the end of eight, was a tie game they had chance enough to win. Even against The Mariano, off whom the Red Sox had swung five hits in eight innings – including a couple of extra base hit, one of which got cashed in for a run. (To paraphrase Joe Schulz, somebody's been getting him – the bastard's got a .215 lifetime batting average and 194 runs against him.)
Alas, it has been so much more fun to conjugate Little's guillotine size than to conjugate reality. From the moment Aaron Boone launched Tim Wakefield's knuckleball into the left field seats for game, set, and American League pennant, the preponderance of Red Sox Nation made Grady Little the most despised man in baseball this side of hapless Steve Bartman, while Little's superiors offered him a defence that equaled a pea shooter warding off a tank division.
If Pedro Martinez's stuff had equaled his heart in the eighth inning, Little would have resembled a genius. Or, at least, Jack McKeon, who has been re-enlisted for a 2004 encore . For making a commitment to Martinez's heart, Little ended up with his head in a basket.
"There will be a lot of Grady Little in our next manager,'' Red Sox president Larry Lucchino said. "We want to have a greater balance among the tools that can be used to make a franchise successful, and we will seek to fine tune that balance as we go forward. This is not going to be a stat-geeks organization, nor is it going to be an organization run by old, salty-dog baseball traditionalists.''
Red Sox Nation dares not ask how it will be run.

GAME SIX AND MATCH: MARLINS 2, YANKEES 0
MARLINS WIN WORLD SERIES 4-2
WHAT THE WINNER SAW:
The Hero With A Thousand Faces
—Peter Schilling Jr.
Sunday, October 26
"..and where we thought to find an abomination, we shall find a god; where we thought to slay another, we shall slay ourselves; where we thought to travel outward, we shall come to the center of our own existence; where we had thought to be alone, we shall be with all the world." —Joseph Campbell
Once upon a time, there was a young baseball club, talented but confused, who struggled in front of wasteland of empty seats, virtually unknown to the rest of the world. In May of that year they found themselves ten games below .500, and all seemed lost. Then they turned north, to the Carolinas, where they found a wizened old man who saw promise in them that they couldn't see themselves. He spoke quietly, and led them through the dark wood of the regular season, and taught them to believe in themselves. At the end of their journey they found themselves at the gates of a mythical place called Yankee Stadium. There they met the New York Yankees—that great and evil machine made up of cynical and wealthy players, purchased or stolen from smaller, weaker ballclubs around the nation. The Yankees who devoured the humble Minnesota Twins, then the good Red Sox, crushing the collective hopes of the faithful 'neath their bootheel. Their owner was a sour and frustrated man, given to abusing his staff, surrounded by his wealth and his many lackeys, clenching his fist as his GM clutches as his throat, gasping for precious air. No one expected these Marlins to come this far, much less their miniscule fan base. When they got here no one expected them to win. But in the face of the most powerful club in both leagues, in the roar of Yankee Stadium, old Jack McKeon simply smiled and said… well, he didn't say "use the force", but he might have.
For these Marlins are World Champions and the best team won. You can argue about paper, about what one team has versus what another team has, but the real story is on the field, and it was on this field that the Marlins made their dreams a reality. Some might point to the Yankees pitching staff and give them the edge; others might suggest that things would be different had Wells pitched on Thursday night. They might go down the line, position by position and give the nod to the Yanks. But this game isn't played on paper, it's decided on the playing fields of the Bronx, and Jack McKeon made it known that his club can beat the best of them.
There are many facts that make this Marlins victory that much more improbable: you can point out that the "Miracle Braves" of 1914 were the only team to go from ten games under .500 to win a World Series or that the '78 Yanks were the only team to switch managers and win the title. Neither of them, however, played before so few fans. Which, in my mind, might make this thing even better.
"Did you ever expect this to happen in your wildest dreams?" the ESPN radio commentator asked Josh Beckett.
"Well, yeah, in my wildest dreams," Beckett admitted. Really, this was a stupid question because it was probably the wildest dreams of everyone on this club back in May. That's when Jack McKeon, the baseball Cincinnatus plucked from his home in the Carolinas to lead this club to glory, started to settle this club down, make them see that their dreams could become reality. From the pitching staff to the utility players, no doubt to the clubhouse men and the small army of vendors that roamed those empty seats, a feeling that this club was something special began to take hold. McKeon made everyone associate with this franchise understand that they, too, could be heroes.
And maybe in the process, he didn't just help the Marlins to a World Championship, but he helped make Miami a baseball town.
I've made light of the Miami unfaithful over the last few days, but the side of me that understands how the world really works knows that people don't like being screwed. Why would anyone bother with this club? Year after year of losing, and no hope in sight that change would come soon. You get this new owner, this Loria fellow, from New York of all places, who essentially trades his franchise, I can imagine a million eyeballs rolling when they hear he's come to save the team. They got off to a rough start, Loria pulled the trigger, and Jack McKeon came to town, and the Marlins were the best in both leagues, right up to the end.
This is precisely how men and women become die-hards. How kids start taping newspaper clippings on their walls, how clapboard taverns in Pahokee start gathering regulars during game days, how old men reenact game six for their grandkids. It comes from Josh Beckett pitching one of the greatest World Series games ever, in hostile territory, a complete game shutout, striking out nine and growing more powerful as the game progressed. Over beers in January they'll talk about Alex Gonzalez's line shot home run, and when they're really soused, they'll run the length of the bar and show 'em exactly how he slapped home plate in the fifth to give the Marlins the only run they'd need that clinching game. You'll hear thousands claim they followed the team all season, they've been fans since day one, and who cares?
For this offseason, Miami, Florida is as much a baseball city as Boston, New York or St. Louis. You can't argue that these guys are like the '97 mercenaries. No, they're Josh Beckett, and Dontrelle Willis, and A. J. Burnett when he comes back from surgery. They're Pudge Rodriguez, not a vainglorious, money-chasing catcher looking at whoever would give him the big bucks: this is a guy no one thought too decent, plagued with injuries and grateful for his chance to shine. It's a defense made up of young kids no one's heard of 'til now, names the Florida faithful (and they're faithful now) will remember in the mild months of winter: Derrek Lee, Alex Gonzalez, Luis Castillo, Juan Pierre, Miguel Cabrera. It's every member of this now-happy franchise: from Loria down to the secretaries, the coaches and trainers from single- to triple-A, every hot dog vendor who watched his buns go soggy in the Florida heat, to the dozen or so people who owned season tickets and actually showed up. Thanks to Jack McKeon, to Josh Beckett and every one of these people, not only is there an October Country, but there's promise next April. Before this year the Marlins were no one's team; now they belong to Miami. We can just watch with envy.
WHAT THE LOSER SAW:
Fresh Fish Special
—Jeff Kallman
Huntingon Beach, CA, Oct. 26
Of another and perhaps more illustrious Beckett, it was written thus: "He seems to say that only…amid God's paucity, not his plenty, can the core of the human condition be approached." Weren't there enough who gazed upon the Florida Marlins as one of baseball's versions of God's paucity and the New York Yankees Beelzebub's plenty?
That, of course, was before Jorge Posada picked the wrong time not to block the plate with a runner coming down the line. Before Derek Jeter picked the wrong time to commit his first error in 27 World Series games, making room for an unearned second opposition run. Before the rest of the Bronx Bumblers, already having picked the wrong World Series in which to make mistakes formerly alien to them, picked the wrong time to swing leaden bats or play enough out of position.
And, that was before the Marlins once more picked the right times to exploit Yankee wrongdoing while today's most recognizable Beckett picked the right time to pitch up to his postseason laurels. "That kid," said Joe Torre after the game, "showed that he's going to be a great one down the road, if he's not there already."
Josh Beckett making the final putout, as his Marlins shut out the Yankees, 2-0, proved a fresh Fish special that fit himself and his team perhaps a little neater than the World Series rings being fitted for them now.
Bernie Williams had opened the bottom of the ninth lashing one to deep left, pulling Florida Marlins left fielder Miguel Cabrera over and back on the run, until he backhanded it somewhat over his head. Hideki Matsui lashed one a little deeper in the region, again pulling Cabrera over and back to make the same overhead backhand catch. Then Posada, perhaps appropriately, grounded a slow roller up the first base line, give or take a foot or two over on the grass.
As Beckett ambled over off the mound to field the ball, the mind flashed back to the fifth inning for a moment. Back to when Alex Gonzalez rounded third and came down the line home, after Luis Castillo hit a two out, two on single; back to when Yankee right fielder Karim Garcia threw home down the first base line, and Posada haunched a step toward the line, in front of the plate, rather than blocking the plate even somewhat, allowing Gonzalez to slide smartly behind the plate, touching the corner with his fingers, just eluding Posada's backswiping tag for the first Florida run.
Now, Beckett picked up the ball as Posada came up the line. The Florida pitcher tagged the Yankee catcher jubilantly enough. And Andy Pettitte's wish not to see a visiting team celebrate winning a world championship in Yankee Stadium did not come true.
Pettitte did everything he could to make it otherwise. He pitched stoutly enough for seven innings and might otherwise have joined Beckett in taking a tandem shutout through nine. It was not Pettitte's fault that the Yankees committed missteps the Marlins were sharp enough to exploit well. He matched Beckett in heart and in effort up until the fifth, but the Yankees did not match the Marlins for making their openings count.
They had an opening in the bottom of the first. Williams sent one flying to left center with two out, but Juan Pierre hustled over and took the dive, landing with his glove just inches from the ball hitting the grass and bouncing to the fence, as Jeter hopped up to the edge of the dugout and windmilled his arm urging Williams on to second. But Beckett broke Hideki Matsui's bat as the Yankee left fielder flied out to right.
They had an opening in the bottom of the second, after Posada looked at a riding fastball off the outside corner that got called strike three. (That, in the third game, was the same pitch, to the same batter, that got called ball four, walking Posada with the bases loaded, tying what went on to become a 6-1 Yankee win.) Jason Giambi drew a four-pitch walk, but Garcia forced him at second and Aaron Boone struck out swinging on a climbing fastball.
Then, the Yankees made either team's first heavy threat in the bottom of the third. Alfonso Soriano's postseason slump had bumped him out of the leadoff lineup spot, but batting now in the ninth spot he lined a one-hop single to center. He took off running as Jeter whacked a grounder to second, forcing Castillo to settle for throwing out the batter. Johnson walked and Williams stepped in, to a thundercrack of crowd noise. But Beckett bent him back on a high rider before getting him to ground into the 4-6-3, grounding the Yankees again.
They tried again in the bottom of the fifth, when Garcia slashed a single to right and Boone sacrificed him to second. But Soriano popped out to third and Jeter struck out swinging, making the Yankees 8 for 47 to that point of the Series with men in scoring position.
Then, the Yankees gave the Marlins a gift in the top of the sixth. Jeff Conine, one of the more impossible Florida outs this Series, reached on an uncharacteristic error by Jeter, who bobbled the grounder and then threw into the dirt and just past first. Mike Lowell walked and Derrek Lee bunted one hard right back to Pettitte. But the pitcher turned and threw to second, starting a would-be double play, rather than throwing to third to get the lead runner, and Lee beat the throw to make it first and third. And Conine ambled home when Juan Encarnacion flared a sacrifice fly to right. Gonzalez bunted for a base hit when he spotted Boone playing just far enough back at third, before Pettitte contained the damage at 2-0 when he struck out Pierre swinging.
After Beckett worked his second 1-2-3 in the Yankee sixth, and Pettitte worked his first 1-2-3 in the Florida seventh, the Yankees made another opportunity. Posada rifled an inning-opening double near the left field line. But knee-troubled Giambi grounded out to third. Beckett put Garcia into an 0-2 hole before overthrowing a changeup and two fastballs to run the count full, but he went back to his naughty curve ball and rang up Garcia looking, though a few Yankees barked a little that the ball didn't quite land in the zone. Ruben Sierra pinch-hit for Boone and struck out swinging, leaving the Yankees nothing for ten with men on base to that point in the game, striking out four of the ten times.
As if thinking that bringing him in now with a 2-0 deficit might reverse what began when they failed to bring him in with the fourth game tied in the ninth, the Yankees brought in The Mariano to pitch now in the Florida eighth. He did what he usually does, of course, but he could do nothing to reverse the latent trend of the Yankees writing checks they could not cash. And they did it one more time in the bottom of the inning.
Soriano singled to left on the first pitch he saw from Beckett to start the inning, provoking the evening's first stir in the Marlins' bullpen, Dontrelle Willis and Ugueth Urbina tuning up as Beckett and Jeter went toe to toe yet again. And Jeter worked Beckett for a full count, before flying out to somewhat deep center field, making him the eleventh Yankee to bat with men on base and not hit safely. Johnson became number twelve when he rapped into the 4-6-3, leaving Beckett standing three defensive outs from the shutout and the ring.
"To find a form that accommodates the mess," wrote Beckett the Samuel, "that is the task of the artist now." Beckett the Josh found the form and the Marlins accommodated a Yankee mess.

GAME FIVE: MARLINS 6, YAHN-KEES 4
MARLINS LEAD 3-2
WHAT THE WINNER SAW:
Slouching Towards The Bronx
—Peter Schilling Jr.
Friday, October 24
I haven't seen that look on their faces since they started winning it all in '96. I've seen the look on the faces of the San Diego Padres, on the Braves both times, on the Mets and especially Bobby Valentine, and even on the faces of the Diamondbacks after Byung Hyun-Kim gave up the late-inning homers two games in a row. A look of things falling apart, of the gyre widening, and… well, there's no blood-dimmed tide loosened on the world, but in the game of baseball, Jose Contreras is probably enough.
That was the shock. Here are the Yankees, scoring early on the Marlins Keystone-Kops style fielding, shut down by a masterful Wells for one inning, and then, in the top of the second, Bret Boone is up and… there's a pinch-hitter for David Wells. The Fox boys are flummoxed. Joe Torre's long face has suffered more erosion, and Mel Stottlemeyer is pacing. Where the bleep is David Wells?
Gone. Back spasms sent the Yankees best choice to the training room while Jose Contreras hits the mound sweating. And I swear to you, even though I have nothing more than the eyes in my head to verify this, when Wells left, and Contreras took the mound, these Marlins looked as they were about to break into song. Loose, relaxed, they quickly knocked in three runs in the second, using two bases on balls to rattle the nervous Contreras. Better yet, the Marlins manhandling sent the Yanks to the plate looking bewildered. They could have hit more off Penny, but looked like they'd had the wind knocked out of them.
For this isn't in the normal Yankees script and it leaves me wondering. These guys have so many tools at their disposal, and Torre barely breaks a sweat when reaching into the box for some overpaid player to win yet another one for the franchise. But things have changed. These Marlins seem unimpressed by the Bombers, beginning with last night. They didn't know or didn't care that the New York Yankees had won every postseason extra-inning game dating back to 1964, before most of them were born. The Torre guidebook states that you bring in Rivera with a lead. Certainly the Yankees would get a lead soon. Forget it, the Marlins said, and refused to wait for the greatest closer in postseason history to lock the door.
Last night it was Contreras. And I haven't seen anyone else ponder this question, but I'm wondering: why him? Look, the guy threw twenty-six pitches just the night before. My choice: even though I made light of him, even though he's had it rough, why not toss Jeff Weaver to these wolves? He threw 16 pitches, had a perfect eleventh inning, and gave up but one homer that was barely even that. I, for one, didn't think he was horrible, but I did wonder if Contreras wasn't pooped out, not to mention terrified. Christ, he threw that way, falling behind on the first four batters, in the end walking three and striking out four.
The Marlins added two more in the fifth, on a flub play by second baseman Wilson and an invisible Derek Jeter, who Tim McCarver claimed couldn't get there fast enough. I don't agree—replays showed Mr. October jogging to position.
Are the Marlins messing up the delicate rhythms of the Yankees? Consider: many of the upstarts runs have come with two outs: the three run first off Clemens, the three run second off Contreras. They didn't give up in the twelfth, haven't given up one whit. This tenacity is usually the rule with the Yankees, who, I'll admit, reared their beautiful heads in the ninth, scoring two (one from Giambi's home run) and almost tying the game when Bernie Williams sent a fly deep into right-centerfield.
And now the teams head back to the Bronx where everything seems perfectly matched. The Marlins look as if they could care less where they played, Yankee Stadium or Joe Robbie (which, considering their not so-huge fan base, probably isn't such a charmer for them anyway). This leaves me in a state of some concern: the Marlins, of all people, upending the Yankees. Three years in a row without a Yankees title, and what does this mean? It hasn't happened yet, of course, but if it does, then, by most accounts, surely some second coming is at hand; surely the wrath of Steinbrenner will be unleashed upon this team. Who is going to lead this classy club? With a new manager, new coaches, perhaps a whole slate full of new players, what rough team slouches towards the Bronx to be born?
WHAT THE LOSER SAW:
"They Ain't Going To Hand It To Us"
—Jeff Kallman
Huntingon Beach, CA, Oct. 2
Maybe the Yankees should have seen it coming after a pair of motorcycle policemen collided while escorting one of the team's buses to the ballpark, and after David Wells had to leave the game, following a perfect first when his recurring disc problem recurred again.
This time, the Yankees could not tie the game in the late innings despite a determined comeback from a five-run deficit. Derrek Lee made certain of that in the top of the ninth. On the "once bitten, twice shy" principle, perhaps, he played to the first base line the way you are presumed to play in the late innings.
With Enrique Wilson on third and Ugueth Urbina trying to close it out for the Marlins, Hideki Matsui ripped a bullet up the line marked with nothing more sophisticated than "potential three-base hit." This time, all Lee had to do was drop his glove, spear the ball upward, and take it to the bag. And just like that, the writing on the ball changed to "One More, Then No More!" Lee bagged the Florida Marlins a 6-4 win, putting them one win away from bagging their second World Series in as many tries.
Wilson should now know better than to expect gratitude from his opponents. Some thanks he got for spelling slumping Alfonso Soriano at second base and helping the Fish put the game out of reach in the fifth. With Chris Hammond on the mound for the Yankees, Jeff Conine ripped one up the third base line on which Aaron Boone put a highlight film stop. Boone threw to Wilson at second and Ivan Rodriguez, between second and third, was as dead as a bug in a classic Raid commercial.
Except that Wilson threw the ball to…nobody in particular. That let I-Rod take third unmolested, with Conine likewise safe at first, leaving room for Mike Lowell to pin a pair of unearned runs on Hammond when he singled the pair home, putting the Yankees into a 6-1 hole.
The Yankees were not exactly dealing from strength as it was. Jason Giambi also sat out of the starting lineup, his knee misbehaving just enough to make him a first base liability. But they still managed to open the game with Derek Jeter, batting in the leadoff spot, singling over Luis Castillo's head at second base. Jeter took third when Wilson's bunt bounded off Florida starter Brad Penny's glove and, on the charging Lee's errant throw to first, Penny's wrist, not to mention past Castillo backing up the play. Jeter came home when Bernie Williams lofted a sacrifice fly, but Penny got Matsui to ground out and Jorge Posada to strike out to keep it 1-0, Yankees.
Wells then worked through a perfect first, though he needed a little help from Jeter to make it perfect. Juan Pierre was thrown out bunting, of all things, but Castillo grounded to Jeter's left, the shortstop giving a stretch and a spin around and an off-balance throw that Nick Johnson backhanded deftly on the short hop for the out at first. Rodriguez bounded out back to Wells for the third out, and that was when Wells walked off the mound in a grimace.
Jose Contreras tossed in the bullpen throughout the Yankee second, and David Dellucci grounded out batting for Wells to end it, but Joe Torre had sent Dellucci up without first advising the umps his starting pitcher was coming out because of an injury. That denied Contreras the customary as-needed warmup time to start the Florida third, though it seemed not to matter when he got rid of his first two batters quickly enough.
But he walked Mike Lowell and Lee, before Alex Gonzalez bounced a ground rule double over the fence in right, driving home Lowell. Then a lifetime .143 hitter stepped up and helped his own cause, showing little ill effect from the throw off his wrist. Penny singled to right to cash in Lee and Gonzalez, and the Yankees looked up from a 3-1 hole.
Pierre has other ways of making trouble than starting innings by extorting his way on base and shoplifting from there. The Yankees cannot tell you what a thrill it was to learn Pierre is just as capable of lashing an RBI double, which is exactly what he did to drive in Lee, who had singled to open and taken second on Penny's sacrifice.
The Yankees gave it a try in the seventh when Johnson opened with a single to right center and Karim Garcia pushed him to third with a single to left center. But Aaron Boone flied out to shallow right and pinch-hitter Ruben Sierra, batting for Hammond and perhaps hoping to pick up where he left off in the fourth game (his pinch-hit triple tied the score in the top of the ninth).
This time, however, Sierra struck out swinging. But Jeter ripped a line single to center, sending home Johnson and sending Garcia to third, before Wilson worked out a walk to load the pads for Williams. There was not an unanxious heart in the house as Williams cocked his bat against Penny, who had been magnificent enough to this point, atoning for his shaky League Championship Series turn. And not a heart in the house failed to push up a heave of relief, when Williams lifted a simple enough flyout. That meant seven men total left on base by the Yankees to that point, and a 6-2 lead for the Fish.
Jeff Nelson took over for Hammond and kept the Marlins on their best behavior in the bottom of the seventh. Only Cabrera's broken-bat single to center and Jeff Conine's arduous walk, after fouling off a couple of full-count pitches, interrupted the proceedings. On came the Child Prodigy to work the Yankee eighth, Dontrelle Willis allowing only Johnson's single to right to interrupt his pleasure after he got a flyout and a popout, with Soriano coming up to pinch hit for Garcia.
"I think I swing at bad pitches, that's the problem," said Soriano to reporters before the game, in what might have been the understatement of the Series to this point. "It's tough to recognize the pitches because it's a different league." As if to punctuate that point, Willis struck him out swinging on a pitch that seemed to drill a hole in his bat and ending the inning.
Nelson kept the interruptions in the Florida eighth limited to Gonzalez's one-out single to right. He got a bonus when he struck out Juan Encarnacion swinging and Posada fired a strike to second doubling up Gonzalez stealing. That's how many strike-'em-out/throw-'em-out double plays these teams have committed in this Series now?
The Marlins turned the Yankee ninth over to their erstwhile closer, Braden Looper, but this time he was not quite as heroic as he had been the night before. Giambi made sure of that, pinch hitting for Nelson with one out and bombing a huge home run over the deep right center field fence. And suddenly the Yankee deficit was a mere three.
Then, Jeter whipped a single to right and came home quickly enough when Wilson doubled down the right field line, pushing out Looper and bringing in Urbina. And again Williams pushed Pro Player Stadium hearts up into throats, this time with a long blast to deep right center, the hearts not repairing to their standard locations until Pierre glided over to catch it in front of the fence. That left Matsui's rip up the line to die in Lee's glove for the game.
"We've got to stay tough," said Josh Beckett, suspected to be the Marlins' Game Six starter. "They ain't going to hand it to us." The Marlins are smart enough to temper their spirited style and attitude with a fish eye's lock upon reality. Maybe it wasn't that surprising that they could come home and beat the Yankees two out of three.
But the Marlins are bumping up against a little piece of history that may not necessarily be kind to them. They could become the first expansion team to nail their second World Series in their second try within their first eleven years of life, but they will have to take it on the road to succeed. The 1973 New York Mets learned the hard way, from schoolmasters named the Oakland Athletics, that three-to-two Series leads do not necessarily play well in the road ballpark.
Behind designated instructors Andy Pettitte and (if necessary) Mike Mussina, the Yankees would like to teach a lesson the Fish would like to avoid.
THE HIDDEN FORTRESS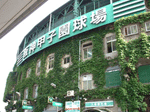 You would be hard-pressed to find a better postseason in baseball history than the 2003 three version, both home and abroad. It's been stated many times that, of a possible 41 postseason games we've played 37, and will at least go to 38. All but the Yanks-Twins series were incredible, close games with amazing plays, bizarre twists of fate, lots of joy and plenty of heartbreak.
Unfortunately, I have no way of covering, in any depth, the drama that is being played out across the international dateline. For in an old, kudzu-covered stadium in Osaka, Japan, where a plaque to Babe Ruth welcomes the baseball fan, one of the best Nippon Series has been battled while baseball fans like myself are deep in slumber. The Hanshin Tigers won their third straight game, a 3-2 nailbiter (I'm assuming; it's still too early for any reports) in game five to lead the series three games to two. I'm reminded that this exists every time Matsui steps to the plate in our own championship, and I wonder if he's following the series. I bet that he is. There's a great story there, with the Daiei Hawks being led by Sadaharu Oh, the Tigers and their curses, all the comebacks, and, of course, the close baseball games, two of which went into extra innings. It's like a dream, this series, a floating world of Japanese Baseball, elusive, only pieces of which are carried into my waking day. Even though we've had good baseball here, I'm wishing I was in Koshien, trying to keep up with their crazy fight song, as full on maguro as I would be on franks, scoring the game and speaking the common language of baseball.
—Peter Schilling Jr.
GAME FOUR: MARLINS 4, YANKEES 3 (12 inn.)
SERIES TIED 2-2
WHAT THE WINNER SAW:
The Ex-Tiger Factor
—Peter Schilling Jr.
Thursday, October 23
There are many times in life when we have to say goodbye—to family, to friends, to co-workers, etc. More often than not, these are clumsy moments: rarely do the farewells go as planned, someone says something stupid or everyone's too embarrassed or simply the night just doesn't have a rhythm to it. Another sign of a farewell: lousy pictures. The boys at Fox were all giddy about the thousands and thousands of snapshots being taken from the stands, blurry, one-hour photos that will render the moment an undistinguishable blur.
Such was the case with last night's Game Four. Roger Clemens pitched in what may be his final game, "may" being the key word in that sentence. For it's really not a stretch to think that if this series goes to seven games, Clemens, totally rested, could make a middle-relief appearance. He could, in that appearance, end up with a loss or a win (think Randy Johnson). Is it really so incredible to think "I was at his last start"? I guess it is.
It could have been Clemens swan song, could have been the last victory in a great career, a million could've-beens, for a three-one series lead would be nearly insurmountable, and Clemens could have another ring for his collection. Instead, the Rocket had to settle for a 'maybe' farewell, in which one inning's worth of trouble kept the old boy from really living it up.
That inning was the first, and what a first it was. If anyone needs evidence for a team's tenacity, you could find it here and in the extra innings. The Marlins knocked five straight hits that inning, playing what I call kitchen sink ball, throwing everything at them. A single, a homer by Baby-Face Cabrera, then three singles. Three runs, and that was all they needed through nine.
Carl Pavano, the Marlins semi-ace, apparently didn't realize this was supposed to be Clemens' evening, and mowed down Yankee after Yankee, giving up but a run in the top half of the second. He would have probably won with that lead had Mr. McKeon left the youngster in… instead, good Jack sent in Ugueth Urbina to hand the Yanks two runs and a tie in the ninth, as Rueben Sierra, who supposedly used to hate Joe Torre (leave it to Fox to build the drama), knocked in a triple.
So yet another fabulous pitching duel was buried in the sands of a late-inning Yankee rally. Roger Clemens hurls six stellar innings, beneath the glitter of the flash bulbs of a thousands of disposable cameras—while Pavano matches him frame-for-frame, with nary a photo. Both men struck out five, walked none, though Pavano took advantage of one of the best double-play combos in the noble sport by inducing a pair in the first and fifth, both by the bat of Derek Jeter of all people. Neither man got credit for the game, just some more innings tacked on to their record, their ERAs raised or lowered.
Ninth inning, Yanks tie it, and, despite the fact that this game is in Florida, the momentum was on the Yankees side. For sure this night was going to go Clemens' way, for even if they couldn't give him a win, if the Yanks could squeeze it out, that was good enough. And in the eleventh, when the Bombers loaded the bases with one out, and 'wild' Braden Looper came in, it looked bad. Would he walk in the go-ahead (and, in my mind, winning) run? Would the Yanks get their usual clutch hit? Jesus, it was Aaron Boone, so no doubt he's going to Bucky Dent these guys as well. No, Boone struck out on some beautiful fastballs and then… well, and then the bottom dropped out.
You might not have noticed it at first. See, the Yanks have this postseason'mystique', but it couldn't overcome what could possibly be the worst curse in baseball: the Yanks put in not one, but two former Detroit Tigers (besting the Marlins own former Tiger, Juan Encarnacion). First, John Flaherty replaced Posada. He flew out to kill the threat. Joe Torre must not believe in curses, for he thumbed his nose at fate and inserted… Jeff Weaver on the mound.
Weaver? I was beside myself. It was all coming together now, Roger Clemens goodbye, his farewell (though maybe not), you had the cameras, the bumbling, the tributes, the idiotic banter from his wife and all the celebrities, you had to have a party pooper. Welcome Jeff Weaver. Former Tiger, now Millstone for the New York Yankees.
True, Weaver did fine in the eleventh, inducing a pair of fly balls. But then up to the plate stepped Alex Gonzalez. What a match! A guy who hadn't pitched in a month versus this wonderful statistic (courtesy the hated Tim McCarver): the player with the worst on-base percentage in baseball postseason history.
Consider that for a moment. Mostly I can't stand all the 'postseason' records being broken by Jeter and Wells and any others, because the postseason is longer now than it's ever been before. In the old days the postseason was the World Series, period. All of Jeter's numbers would be greater than Mantle's or Ruth's because today's guys have three rounds to pad their numbers.
But if the statistic is a negative one, well, that's something to be ashamed of. Extra rounds mean extra futility, so Gonzalez was… well, he was the sub-Mendoza, the anti-hitter. With a .111 on-base percentage (pre-homer) for the postseason, this guy has as much chance of smacking a game-winning home run as a team has of losing 119 games. Exactly.
For he was facing a man with the curse of the Tigers, and, well, one trumps the other. If it's stats versus curse, in the October Country you bet the curse every time.
Gonzalez, who'd struck out twice already, fought to a full count and then shot a line-drive homer that at first looked as if it could be foul, then a double, just barely slicing over the fence to end the game. And Jeff Weaver could just scowl and walk away, his future with the Bombers seeming more and more doubtful.
And so Roger Clemens' send off was bittersweet. No one can tell him he should be proud of his performance—for unless it comes with victory, credited or not, it's worthless. The guy would trade Jack McKeon's tipped cap for a victory any day. And as for all the questions about whether or not Clemens is coming back, I say, count on a brief return. Not next season, but Sunday night.
WHAT THE LOSER SAW:
The Rocket Has Landed
—Jeff Kallman
Huntingon Beach, CA, Oct. 23
Roger Clemens threw his first professional baseball game in the Florida bus leagues during the Reagan Administration. Unless the World Series goes to seven as enough still believe, and unless Joe Torre decides then that history is his best chance to win, Clemens has finished in the state where it began. Miami isn't Winter Haven, and the bus leagues are not Game Four of the World Series, but a sort of homecoming is what it is.
And that is appropriate, because Clemens is as ready to go home as he has said his family is to have him come home, after twenty-one years of coming home to hitters uncertain whether they were getting a crack at driving a mistake, a crack at conquering a hard and fast riser, or a crack at singing a little chin music and living to tell about the concert.
Clemens had the team that raised him and eventually discarded him to thank for getting one more chance. The Boston Red Sox had put the Yankees into a 4-0 hole and chased Clemens out of the game in the fourth inning, leaving Clemens to watch with the world as Grady Little refused to lift Pedro Martinez, the Yankees saw the Red Sox, then fought them to a draw, until Aaron Boone hit Tim Wakefield's knuckleball for a home run that nobody in two cities will lose to time's erosion. A home run that bought Clemens one more start.
Now, for Game Four, Beckett and his fellow Marlins got to see whether the master himself had enough left to leave the Yankees standing one win away from another World Series conquest. As it turned out, following a 42-pitch first inning that left him in the hole, and despite Florida starter Carl Pavano outpitching him by just enough to make it count, Clemens had enough to leave the Yankees close enough to think about tying and winning the game.
They made the first one happen, then tried and failed to make the second happen in extra innings, including a bases-loaded top of the eleventh. The Marlins took it in the twelfth, when Alex Gonzalez lined a leadoff shot over the left field fence for the 4-3, Series-tying win, but nothing stripped the burnish off Clemens's gallant farewell.
It has been a long, sometimes strange trip, from his first major league batter (Brett Butler, whom he walked on four pitches and then picked off) and his first major league strikeout (Mike Hargrove, most recently seen becoming the Baltimore Orioles' former manager), to his fifth World Series, making his seventh career World Series start, carrying a lifetime World Series record of 3-0 but a 1.56 earned run average.
Clemens has upheld the Old School at both its incandescent best and its insufferable worst, often enough crossing the line that distinguishes take-no-prisoners competitiveness from dangerous ruthlessness. At his incandescent best, Clemens has been the marksman brooking no judicial tyrant (read: umpire) in keeping the strike zone full, in pushing off the plate a crowding batter who believes the strike zone begins in the middle and ends on the outside. At his insufferable worst, Clemens has been a shooter careless and even reckless in asserting his games would have but one commander.
One moment, Clemens would be an elegant competitor and an edgy craftsman making an opposing lineup earn whatever they could pry from him. The next moment, he would be an egregious, clueless bully, drilling a hole in a hitter's head for no crime more heinous than mastering him profoundly enough; even trying, in due course, to shish kebab the same hitter by hurling a jagged-ended, broken bat barrel like a javelin toward that hitter's path up the first base line.
Without hagiographing the elegant, edgy craftsman, without irrevocably demonizing the egregious bully, mindful that he is neither the most exaggerated of craftsmen nor the worst of baseball's bullies, it is possible to see they are the parallel lines of a man who has never entirely surrendered the boy, and a boy who has strained not to compromise the man.
Clemens standing for the National Anthem before Game Four allowed both to appear across his modest eyes, one moment composing his competitive mask and the next composing a defence against a lifetime's emotion exploding through his skin. But now the game was on in earnest. And, after a top of the first in which Alfonso Soriano led off with a single, Derek Jeter soft-hopped into a double play, and Jason Giambi flied out to deep right center, it was Clemens's turn to go to work at last.
He got two outs before knocking Ivan Rodriguez off the plate, perhaps a little payback for Jeter's having been plunked the night before. But Rodriguez repaid the payback with a sharp single to right. Then, Clemens played Miguel Cabrera a little tight music and a little high-and-suggestive music.
"Hi, I'm Roger Clemens, nice to meet you," ESPN commentator Jon Miller translated the Cabrera dusters.
"Hi, I'm Miguel Cabrera, nice to meet you," replied Cabrera, by way of a blast into the right field seats.
And, then, it was single (Jeff Conine), single (Mike Lowell), single (Derrick Lee, driving in Conine), and a little early Yankee bullpen action, before Clemens got Alex Gonzalez to fly out to deep right to end it only 3-0 in the hole.
The Yankees profited a little less against Pavano in the top of the second. Bernie Williams led off with a single and the Yankees caught a fortunate break, when Hideki Matsui was ruled safe at first on his grounder to third, despite the throw over beating him by a hair. Then, the Yankees caught a second fortunate break, loading the bases with nobody out when Jorge Posada grounded one deflected off Pavano and mishandled on Castillo's throw to first.
But Karim Garcia struck out, Aaron Boone flied out to deep enough right to score Williams, and Clemens grounded out to first. Clemens, who is third on the all-time strikeout list, didn't even rack his first strikeout of the evening until the bottom of the second when, after two quick groundouts, he caught Castillo looking at a slithering strike three.
The Yankees tried to start something in the top of the third, when with two out and one painful foul tip hard off the thigh of Yanni's number one fan, Giambi singled to right and Williams singled through practically the same lane between first and second. And up came Matsui, who already had a rookie-record 12 RBIs in the postseason to date. He did his best to make it count, hitting a long fly the opposite way, down the left field line, pulling Conine over into the corner to spear it for the third out.
Yanni's number one fan led off the Marlin third with a chopper off the front dirt which curled just beyond Clemens and plunked the infield grass, but Jeter scampered over, picked it on the second quick hop, and bagged Rodriguez by a step. Cabrera bounced one off the plate to Jeter for the second out, but after Conine singled to right Lowell lined out to second.
And as the Yankees went quietly enough in the fourth, with two on the ground and a fly to center, Clemens continued to pitch with heart that sufficed where his actual stuff seemed drained enough. He found reserves to keep the Yankees close enough even with Lee singling up the middle to start the bottom of the fourth. But Gonzalez looked at strike three and Pavano's sacrifice bunt pushing Lee to second was wasted soon enough when Pierre grounded out to second.
Everyone looked with jaws slightly dropped when Clemens, leading off the Yankee fifth, lofted a soft two-strike liner just over Gonzalez's head at short for a base hit that prompted Tim McCarver on Fox to kid about how soon the ball or the broken bat might turn up on eBay. But Pavano recuperated admirably enough, and Soriano struck out swinging, on a pitch practically out of his own zip code, Rodriguez sitting practically behind the opposite batter's box to catch it. And Jeter grounded into a 4-6-3 double play.
Clemens worked the Florida fifth readily enough, surrounding Rodriguez's double to center with a pair of groundouts and a pop out to center. Pavano did him one slightly better with a three up, three down Yankee sixth, and Clemens answered in kind for the bottom of the inning, finishing with a revival of his formerly classic style when he fanned Gonzalez swinging swiftly at a slightly diving pitch.
Had the top of the first not interfered, no obstruction stopped you thinking you were watching a great pitcher at the near-end of his career making his final major league start as special as he could with what he had left to throw. But justice would demand you acknowledge Pavano against the hype, delivering a Clemens-worthy performance in his own right, shearing the Yankees in the top of the seventh.
Clemens cleaned the Fish deftly in the bottom of the seventh, the cameras in the stands flashing the Rocket like circulating handheld missile fire, in the event Castillo proved to be Clemens's last batter. And the Florida second baseman made him work for it, fouling off a few while working a full count, before Clemens punched him out slithering on the inside corner. He stepped off the field to a loud ovation, tipping cap and waving glove, and the Marlins themselves stood up in their dugout to pay him respect, some joining Beckett in tipping their caps, a gesture Clemens returned with equal grace.
But the Yankees still had the job of putting Clemens into the win column in the top of the eighth. Nick Johnson pinch-hit for Clemens to start, but he grounded out to second, Soriano flied out to center, and Pavano froze Jeter on a low-riding fastball slicing the corner. Jeff Nelson came in to pitch and got Rodriguez to ground out to first, struck out Cabrera swinging, and – after Conine singled just past a ranging Soriano – got Lowell to fly out to left.
What the Yankees could not do to justify Clemens's gallantry, the Marlins tried to do regarding Pavano's. Ugueth Urbina started the job just right in the top of the ninth, getting Giambi to fly out to left, but Williams put a small jolt into pitcher and crowd with a long bomb of a foul to the right side, before lashing a 3-1 pitch into center for a single. And Matsui fell behind 1-2 at one point, before working it out to the base on balls. As if sending the Yankees a subtle (as a trainwreck) message, The Mariano began loosening in the pen, just in case.
Posada bounced one to second to force Matsui, but the Yankees still had first and third with Ruben Sierra coming up to pinch-hit for Garcia and David Dellucci trotting out to pinch-run for Posada. Sierra had once left the Yankees bitterly offended that all they cared about was winning, but he had returned this season discovering that extremism in the pursuit of winning a pennant was no vice, necessarily, and for the most part he played likewise.
Now, Sierra rang up a 3-0 advantage before Urbina hit two straight front corners on him. Rodriguez set up for a fastball away. But Urbina threw it right down the proverbial chute. And Sierra showed that moderation in the pursuit of a comeback was no virtue, hitting the corner that mattered most, the right field corner, for a game-tying triple, before Boone grounded out to retire the side.
The Mariano didn't come in but Jose Contreras did, swiftly squeezing a flyout to center between two shuddering strikeouts. With Chad Fox relieving Urbina, Joe Flaherty, who came in to catch for Posada, started the Yankee tenth and sent Pierre running to the right center field wall to catch the would-be bomb. Soriano struck out swinging, as has become his postseason custom, and up came Jeter.
First, Fox spun him into a twist with an upriding fast ball, drawing a "wow!" from Jeter before the Yankee captain shot a double down the right field line. But, then, Fox tied Giambi into a swinging strikeout, and here came the situation the Yankees most dreaded: Pierre, Castillo, and Rodriguez scheduled to hit in the Florida tenth.
They dread it especially when Pierre starts an inning with a walk, Castillo bunts him over to second, and Rodriguez, the Marlins' number one postseason big moment run producer, comes up with the Yankees shading him to hit the other way, as he thrives enough on doing. But Rodriguez got fanned on a climbing fastball, leaving it up to Cabrera. He shot a hanging split-fingered fastball up and down the left field foul line before fanning on the high hot one, and it was on to the eleventh.
Again, the Yankees threaten to hook the Fish. Williams doubled to right, Matsui walked, and pinch-hitter Juan Rivera took the free pass after Dellucci sacrificed the runners. In came Braden Looper, whom Urbina had succeeded as the Marlins' closer, and out to right field went Juan Encarnacion in a double switch. And off the hook Looper got his club without a Yankee going home, striking out Boone and getting Flaherty to pop out.
Jeff Weaver, a pitcher in search of elusive redemption following a horrid enough regular season, took care of the Marlins in the bottom of the inning, but Looper sliced through the Yankees in the top of the twelfth. And then back came Weaver, up came Gonzalez, and 3-2 went the count, until…
"He's had a great career, and he ended it in a great fashion," Pavano said of Clemens in the postgame interview room. "He has nothing to be ashamed of…I got a lot of opportunities to watch him pitch some of his biggest games. His work ethic is something I really try to follow. To follow him as a pitcher would be awfully tough."
Not so far as Clemens might be concerned. You can assume the only disappointment tonight was his ballclub coming away with a not-for-lack-of-trying loss. The pitchers to follow him or pass him? "I hope," he said, before the game, "they have a smile or feel some kind of warmth, like I did passing those guys."
SPEAKING OF 2-2 TIES…
It's insanity over in Japan as the Nippon Series is now tied at two games apiece. The Hanshin Tigers, they of the "curse of Colonel Sanders" and playing in Koshien Stadium, the "Wrigley Field of Osaka", evened the series at two games apiece, taking the last pair of games 6-5 and 2-1, from the Daiei Hawks, both in extra innings. Good lord almighty, I wish there was television coverage of these games. Aside from a 13-0 clock cleaning at the hands of the Hawks, the Tigers were down two games to none, before living up to their "Never, Never, Never Surrender!" motto. Three of the four games ofthis series have been decided by one run each, making this postseason, here and abroad, one of the finest in memory. For coverage of the series, check out Baseball Guru's Japanese page, and Japanesebaseball.com.
—Peter Schilling Jr.
GAME THREE: U.S. STEEL 6, MARLINS 1
WHAT THE WINNER SAW:
Rhapsody in the Rain
—Jeff Kallman
Huntingon Beach, CA, Oct. 22
Josh Beckett and Mike Mussina had close enough to the lightning in their arms, both before and mostly after a forty-minute rain delay midway through Game Three. And when the rain backed away enough to continue, either pitcher could have ended up with his good work washed away after seven innings were done. But the Yankees delivered a sprinkle enough before unloading a thunderstorm undetected on the radar, turning a tie wrapped tightly enough at one into the Empire's tightly-enough hammered 6-1 win.
Until Derek Jeter ripped his second double of the night with one out in the Yankee eighth, Beckett had been magnificent enough, sliding right through the Yankees here, squirming out of a mild enough threat there, striking out ten, getting nine of his first ten hitters and giving up only a double and a single overall, both to Jeter. The first double was a clothesline shot to the left field corner in the fourth, with the Yankees down 1-0. But they got him home the hard way, needing Jason Giambi to walk and Hideki Matsui to get plunked on the foot, loading the bases for Jorge Posada to walk on a pitch the Marlins swore caught the low zone.
Burdened by his previous inability to win his postseason starts, Mussina worked just as impressively after the Marlins mulcted a run out of him in the top of the first. Juan Pierre (what a surprise) had led off with a floating high fly to center field that bounded past a sliding Bernie Williams, letting Pierre make it a double. Mussina struck out Luis Castillo and got Ivan Rodriguez to fly out to right, but Miguel Cabrera fought off an inside pitch and singled past Yankee second baseman Alfonso Soriano, holding Pierre and too far over to stop the ball, sending Pierre home and the Fish to an early but short enough-lived lead.
Both pitchers made the second and third innings a blur, even with Alex Gonzalez rifling a double to the left field corner in the second and Rodriguez reaching on an error in the third, Aaron Boone mishandling a hop on the lumpy infield dirt. And neither the light rain falling by the fourth nor the Yankees tying the game shook Beckett out of himself. As the rain began falling a little harder in the fifth, he made the Yankees fall a little harder, too. Boone popped out to left, Mussina struck out swinging, and Soriano bounced out to Beckett himself.
Mussina started the Florida fifth by getting Gonzalez to strike out swinging and Beckett to strike out looking. Down came the serious rain, down to the dugouts the teams were chased, and down came the tarp over the infield. Forty minutes later, back to work went Mussina and up came Pierre to make him work, singling to left just beyond Jeter's outstretched glove. But Castillo hardly had a chance to bring his bat to bear, Pierre getting a slow jump off first and thrown out tightly enough when he stumble-slid on the sanded dirt to second.
It was Beckett's turn to slither out of another mild enough jam in the sixth. Jeter's single and Matsui's walk sandwiched Jason Giambi and Williams striking out, but Posada forced Matsui at second, and now it was Mussina's turn to squirm once again. With one out, Rodriguez doubled off the left field wall and Cabrera singled opposite field to right, pushing Rodriguez to third when Garcia dropped the ball.
But Derrek Lee hit a low liner that Mussina, a five-time Gold Glove winner, knocked down and picked up quickly, throwing home to freeze Rodriguez into a rundown that ended with Posada's tag up the line. Then Mike Lowell struck out swinging and there went that little threat.
The rain returned lightly as the two pitchers matched simple enough turns in the seventh, Beckett's prize catch a big breaking ball which froze Boone like a box of Mrs. Paul's for strike three looking. And the Marlins tried yet again to pry Mussina open when Jeff Conine led off the bottom of the seventh with a single, moving over on Beckett's sacrifice. But Mussina walked Pierre intentionally and got his man, making Castillo resemble an awkward rookie when he chased a pitch which began low and sank to the chalk for strike three, side retired.
Beckett began the eighth with his tenth strikeout on the night, getting an overmatched Soriano to go down swinging, before Jeter caught Lee playing well over from first base, shaded as if expecting Jeter to hit to right center, as the Yankee shortstop likes to do often enough. Jeter caught a pitch that had opposite field stamped on the meat and ripped one straight down the right field line for that second double. Now, Beckett was the first of the starting marksmen to take his leave, and it was difficult to know who got the louder ovation, Beckett striding toward the dugout, a small splash of water jumping off his cap as he tipped it appreciatively; or, the Child Prodigy, striding in from the bullpen, perhaps receiving acclaim for his magnificent relief turn back in New York.
The Yankees did not let Dontrelle Willis begin his evening's work without a little gamesmanship, first base coach Lee Mazzilli catching the Fish with their flippers down when Lee hopped to the dugout from his first base position, had a short word with manager Jack McKeon, and then went back to the field, having a quick word with Willis at the mound. As it turned out, the idea was to have Willis throw to first on an appeal play (denied), the Marlins thinking Jeter had missed first on his turn toward second (his shoe caught the side of the base facing home plate as he turned), but Mazzilli advised the umpires and the umpires advised McKeon he'd lost one of his allotted two trips to the mound for Willis's turn.
Now, here was Willis to work on Giambi, who worked him for a walk as he seemed to struggle finding the lane to the strike zone. Willis then got Williams to fly out to center, Jeter taking third on the play, as a little more rain fell down upon the stadium. And Matsui had a little more rain to fall upon the Marlins, shooting a single through the hold to left, driving in Jeter with the second Yankee run.
Chad Fox relieved Willis and got rid of pinch-hitter Ruben Sierra on a swinging strikeout, and the Yankees had to settle for a one-run lead. That, however, was more than the Marlins could settle for, no matter how tight the game remained, with The Mariano walking quietly to his usual place of business, his usual evening's work ahead, and starting with the usual flourish in the Florida eighth: foul out to right (Rodriguez), swinging strikeout (Cabrera), and popout to the edge of the outfield grass behind shortstop (Lee).
Then Boone started the Yankee thunderstorm with a flourish leading off the top of the ninth, dialing the left field seats to make it 3-1. Nick Johnson, in the game for Giambi, grounded out to first, but Soriano walked. Braden Looper relieved Fox and promptly plunked Jeter before David Dellucci, who had run for Giambi in the eighth and stayed in to play right field, flied out to left. And up came Williams, desperate to relieve a mild case of frustration.
"I was taking it for granted that he would throw a fastball," Williams said after the game, "and I put my best swing on it." Hollered the usually reserved Matsui after Williams put that swing on it, "Out of here! Out of here!" And the ball obeyed with a flight over the center field fence, leaving the Marlins to a final try at the near-impossible.
They made it interesting, of course – Conine spearing a one-out single to right, taking second on a two-out passed ball – until pinch-hitter Todd Hollandsworth grounded out to second, The Mariano found himself with his thirtieth post-season save, and the Marlins found themselves ground into a two games to one pinch.
"It's not an easy task," said McKeon to reporters afterward, "against those guys." Rain or shine.


WHAT THE LOSER SAW:
Have You Ever Seen The Rain?
—Peter Schilling Jr.
Wednesday, October 22
Yanni was in the audience last night, and he brought his curse upon the Marlins. What curse might that be? You pick—I think the guy's just goofy and talentless enough to warrant a curse for a team who's catcher thinks he's the cream.
I write this because it's a circus of stars every Fox World Series, and I'm wondering if we might not be better off allowing Major League Baseball to adopt the name "Fox" on a more permanent basis. Like Fox League Baseball, or MLB by Fox. I mean, after all, these guys are dictating game times, and I would bet you ten hens to a bag of turnips that there was some push to having David Cassidy—you know, the star of another idiotic Fox sitcom (as was announced at Dolphins Stadium)—to sing God Bless America. Already I miss the Irish tenor, Finn MacO'Flarneysheehan, or whatever his name is.
But I'm ranting. I feel that I have reason to rant. I'm trying desperately to find some good things to write about this series, but all I can find is weirdness. I tried to imagine becoming a Yankees fan, then tried to imagine being a Marlins fan. The Williams' sisters are big Dontrelle Willis fans—Fox told me so—as is Don Shula. I bet they were at nearly every home game last season. You know, I even considered interviewing a Marlins fan, going to Baseball News Blog and hunting down the guy who does the Marlins blog. Only there isn't one. There are about twenty Yankees blogs, but no Marlins blog, unless you count the guy who began his in October (and another that ended in April—that's faith for you). So here I am, watching this decent eight inning game, played amongst the stars in a stadium decorated with the greats of the Miami Dolphins.
And then it rained. I wonder if the rain, and more specifically, the droves of so-called Marlins fans who couldn't stand the 38 minute delay in a World Series game and left. Here are the Marlins, riding high on the cheers and shouts of their newly acquired fan base, when suddenly, in a warm downpour, half the bowl empties, apparently figuring it's just as much fun to watch it on Fox Television.
For it was after the rain that the game went the Yankees way. Prior to that you had a blistering pitchers duel, a beautiful, high-strikeout, low-hit pitchers battle that made this park, for two hours, the best ball on earth. Josh Beckett made the Yanks look awful, especially Soriano, who is still lunging and will probably lunge throughout the series. All was good until the fourth, when the Marlins were robbed by the finicky nature of home plate ump Gary Darling, who figuratively shoved Jorge Posada to first base on what should have been a called third strike, inning over. But he walked, sending Jeter in, tie game.
Mussina battled just as well, giving up a run to the pest Pierre, who made the most of a first inning double that would have been an out to anyone with decent legs in center. Cabrera sent Pierre in with a single, 1-0 Marlins, and then Mussina settled down and they didn't score the rest of the game.
But I believe they should have. With two outs in the eighth, the game was postponed as the rain came down, the fans bolted, and maybe the Marlins felt bad for themselves, but the rest of the game they seemed lifeless. Maybe it was Pierre's single, then being caught stealing that took their hearts out of the game, but I'm guessing it was the acres of bright orange that began to pop out like dandelions all over the park. It was disheartening, and I'm not even a fan.
Much was made of Derrek Lee's standing far enough away from the line to allow World Series wunderkind Jeter to poke a double down the line, a hit that would eventually score the go-ahead run for the Yanks. But the next inning, the ninth, the bottom fell out. Boone homered on the second pitch of the inning, almost into the free Taco Bell seats (good lord, I cannot imagine being forced to hold those damn Taco Bell signs through an entire game), to make it 3-1. But 3-1 is surmountable, and then came the curse of the Yanni. For Soriano hit a high foul ball that Cabrera should have run and caught… but didn't! That's big, right? Right!?!
Apparently, it's not. I watched this foul drift toward the right field seats, but it landed a good two feet away from Cabrera, who was on the run. Thing is, if he'd caught it, that would be the second out, and they would have probably got Jeter or at least Delucci to end the game. My point is this: IT WAS AN EASIER CATCH TO MAKE THAN MOISES ALOU'S IN GAME SIX OF THE NLCS. And yet, no one makes any big deal out of it, because there wasn't a fan involved, it wasn't connected with any curse. You got Yanni in your stadium, I say you're cursed.
Jeter gets hit by a pitch, Delucci is out, so Williams drives a home run deep into centerfield, perhaps to show that he could indeed smash one out, as he had come so close in the second inning.
6-1 Yankees, maestro Mariano Rivera out there, and that's game three. Now this dispirited bunch has to go out and beat these Yanks at least once in a stadium where, rain or shine, the Yankee faithful will wait it out, cheering their Bombers on, heckling the opposition. And that might be a harder game to beat than the one on the field.


SPOOKY SCOUTING
—Jeff Kallman
Huntingon Beach, CA, Oct. 21
"The Manager's office duties," wrote Russell Baker, once upon a time, "also include being fired if the team is defeated. This is because it is cheaper to hire somebody else who can jump up and down on his cap than to hire new Pitchers who never lose their Stuff, new Catchers willing to give up their bodies to block the plate, and new First Basemen who can take The Opposing Pitcher downtown."
The Chicago Cubs have yet to decide it might be cheaper to hire somebody else to absolve Steven Bartman (never mind the initial surmise that Bartman must have been a Florida Marlin fan) or feel even sadder that the Boston Red Sox lost a pennant the day after the Cubs lost theirs. Nor have the Red Sox decided it might be cheaper to hire somebody else who can see people on the field, in their seventh LCS game, thinking about Bill Buckner all game long.
"In my mind," said Cub manager Dusty Baker, after the Marlins followed an eleventh-hour, eight-run evisceration of extraterrestrial eighth-inning opportunity with the apparent formality of waxing the Cubs to confirm their World Series reservations, "this is just the beginning. Good things are going to come for many years."
Baker sounded a lot more agreeable than his Red Sox counterpart, who could not seem to make up his mind between refusing to blame his players or lamenting that he had "people on that field throughout the seventh game" thinking about an ankle-less first baseman from Red Sox past. No one in Chicagoland wants to make Baker a sacrificial lamb, but it seems everyone in the Olde Towne wants to make Little a date with the guillotine.
I hadn't noticed any Red Sox on the field playing that game as though Buckner was on the brain. Unless it might have been Kevin Millar. With Pedro Martinez hustling over from the mound to cover, Millar fielded a grounder off Enrique Wilson's bat. But Millar's legs went out from under him as he turned to take it to the bag himself. But I saw a different ghost on that play: Luis Aparicio, slipping twice rounding third, en route the Red Sox losses that denied a 1972 division title.
"I'm just thankful I'm the scapegoat," Little told the Boston Globe three days afterward, "instead of any one of our players. I'm telling you the truth. I've thought about it a lot." After the game, however, he had closed the visitors' clubhouse in the bowels of Yankee Stadium and told his players how proud he was that they never quit to the last play. And catcher Jason Varitek said they respect Little and the job he did to shepherd the Red Sox this far. What might they think now that Little has told everybody else he saw too many people thinking about Bill Buckner?
Baker, meanwhile, turned up in Yankee Stadium for the second World Series game, watching Andy Pettitte throttle the Marlins after a shaky first inning escape, watching the Fish flail like flounder reeled in up the pier. Officially, he was in town on behalf of prostate cancer research. Unofficially, he was in town scouting the Yankee Stadium ghosts about which Derek Jeter spoke to Boone, before Boone troubled the ghosts of Red Sox past. "I've got my eyes open and I'll be checking it out for ghosts while I'm here," said the Lizard, "so I can take the information back with me to Chicago for next year."
Forget the Pitcher who never loses his Stuff, the Catcher willing to give up his body to Baseball Science, or the first baseman taking the Opposing Pitcher into Lake Michigan. Scouting the ghosts is now part of the credentials. Baker seems bent on scouting spooks. Little seems a spooked scout.

GAME TWO: U.S. STEEL 6, MARLINS 1
WHAT THE WINNER SAW:
One Boot Shy of a Shutout
—Jeff Kallman
Huntingon Beach, CA, Oct. 20
"This is what we worked for all year," said Roger Clemens to Andy Pettitte before Game Two, as Pettitte quoted the future Hall of Famer. "You got to go out strong like a horse tonight." And he almost did. With the Yankee Stadium crowd rollicking a chant of An-dy Pet-titte! An-dy Pet-titte! from almost the moment he came out to work the ninth inning, Pettitte came to within a boot and a scoot of nailing his first complete-game World Series shutout.
But a boot by third baseman Aaron Boone and the RBI hit that boot set up brought out manager Joe Torre to give his man a pat and tell him scoot, the better to bring in Jose Contreras to nail the final out and the 6-1, Series-evening Yankee win. And it had taken a very testy first inning before Pettitte found his comfort lane and winged up to his reputation as a postseason bank pitcher. A reputation he has re-established this postseason, winning this night for the third time he was given the ball after a Yankee loss, something he did astonishingly well (12-3, in fact) during the season.
Pettite spent the first inning pitching from a pinned to the wall position, with the first three Marlin hitters, the three men from whom the Yankees especially wanted no trouble, working the dark Louisianan for full counts. "I was missing a bit," he said to reporters after the game. "Kind of fighting myself a little bit, trying to figure out what kind of game I wanted to pitch on three days' rest."
Unfortunately for the Marlins, Juan Pierre grounded out to second for his trouble and, after Luis Castillo singled deep to shortstop, Derek Jeter unable to bring a distance throw to target, Ivan Rodriguez struck out into a double play, when – mindful enough of Pettitte's pickoff reputation – Castillo broke late from first and the throw from Jorge Posada behind the plate arrived only too early for Castillo's taste.
But that was just in time for the Yankees to get an early start on making their man a little more comfortable. This doesn't mean it started simply for them. Alfonso Soriano opened by working a walk out of Florida starter Mike Redman, but he got picked off pitcher to first to second before Jeter struck out swinging. Then, Jason Giambi – restored to his customary number three lineup spot – was hit by a pitch. Bernie Williams promptly whacked a single up the middle, but the Yankees were not exactly trying to play the run and gun game in which the Marlins specialize. As if to punctuate the point, Hideki Matsui promptly measured a Redman meatball and whacked a three-run bomb over the center field fence.
"He's a pretty good hitter," said Florida manager Jack McKeon in the postgame interview room. "But you go up to hit and you get a 3-0 pitch down the middle and you could be a pretty good hitter, too."
But if you go up to hit and you don't get much of anything down the middle, you could be the best hitter in the business and still look foolish if the pitcher has the cylinders in tune, and that is precisely what Pettitte had beginning with the second inning. He got Miguel Cabrera to line out to center, Derrick Lee to fly out to right, and Mike Lowell to fly out to left center. And if any Marlin thought about snorting, "I'd like to see him try that again," they got disabused even more swiftly in the third, when Pettitte struck out the side, Jeff Conine looking and Juan Encarnacion and Alex Gonzalez swinging.
Pettitte had obviously figured out what kind of game he wanted to pitch on three days' rest, and it had to make the Marlins feel like minnows that a pitcher whose reputed specialty is getting the balls on the ground was making a run and gun team that thrives on using the ground ball to abuse the opposition was the abused.
In between, the Yankees added a run when Nick Johnson, surprising practically the entire Bronx, dropped a one-out bunt toward third and beat it out when Lowell couldn't complete the barehand pickup. Then Juan Rivera ripped a double bounding off the left field fence. Johnson ground his way home and Rivera ground his way to third, but Conine in left fired a strike to Gonzalez at short, who threw home in a futile bid to stop Johnson. But Rodriguez whipped a lightning strike back to Lowell, who got the tag on the sliding Rivera's thigh just a hair ahead of his hitting the bag.
The Yankees rid themselves of Redman in the bottom of the third. Jeter started with a single to left and, after Giambi lined out sharply enough to center, went to second on a wild pitch, before Williams's walk moved Marlins manager Jack McKeon to take a walk, telling Redman to take a hike and bringing in Rick Helling, who'd come home to the Fish in the deal that brought them Conine for the stretch drive. Helling got out of the jam by way of Matsui forcing Williams at second and Gonzalez striking out.
You could be forgiven if you sensed a small shudder flap around Yankee Stadium as the Marlins came up for the top of the fourth: the two barracuda, Pierre and Castillo, were the first two batters scheduled. And Pierre played by the script, dropping one down the first base line and gunning it fast from the box. Pettitte fell a little toward the third base side as he fielded the ball, throwing a little too quickly to control it, and the ball went past first, with Pierre getting credit for a hit. Then Castillo grounded one to third. Boone dove left to stop the shot and force Pierre, but Soriano had to take the throw on a stretch, leaving Castillo safe on first and I-Rod coming up. But he bounded into the old 6-4-3 and that was the end of that threat.
Then, the Yankees struck again in the bottom of the inning, when Nick Johnson singled up the middle with one out and, after Rivera popped out foul to the catcher, Soriano dialed the left field seats, just a few feet away from where Boone's pennant-winner landed three nights earlier. And Pettitte now had the kind of 6-0 lead with which he could all but dare the Marlins to try that run-and-gun stuff again. Which would have been a kind of risk, considering the way a similarly-styled team, the Anaheim Angels, had dismantled him in the previous year's division series. But after losing Cabrera to lead off the Florida fifth, the Fish left fielder grounding one that rode up Boone's throwing side for what was scored an error, Pettitte struck out Lee, got Lowell to ground to short, and got Conine to fly out to center.
Soriano's belt aside, Helling actually pitched a yeoman's turn, if you didn't count Matsui putting another jolt into the air when he launched one out to deep right, in spite of his bat breaking on contact, with two out in the bottom of the fifth. But Encarnacion picked it off just before he crossed onto the warning track to retire the side.
Pettitte allowed no man to reach on a walk until Encarnacion reached to lead off the Florida sixth, but Pettitte dusted himself off and struck out Gonzalez on a blasting swing. Then Pierre bounced a slow roller up the first base line. As Johnson fielded it, Pierre stopped short and broke back toward the plate trying to avoid the tag. I can't remember the last tie I saw a man get caught in a rundown between home and first, either. If the idea was to keep the Yankees busy enough that Encarnacion could take third, it failed miserably enough. Pierre gave up the ghost soon enough, though there lingered a sense in which you could admire his audacity, long enough at least until Castillo grounded out.
The bottom of the sixth found it the Yankees' turn to strike out into a double play. With Posada on by a leadoff walk from new Fish pitcher Chad Fox, Boone struck out and Rodriguez fired an off-balance throw, around Boone, a catcher's curve ball that dove into Castillo's glove just in time to mark Posada D.O.A. Johnson promptly doubled to the right center field wall, but Rivera flied out to about the same spot, with Pierre galloping over from center to catch it on the track.
I-Rod got only the third Fish hit of the game to start the Florida seventh, with a line single up the middle that missed decapitating Pettitte by a foot. Then the Yankees caught a phenomenal break when Cabrera grounded one down the third base line and barely even ran up the first base line, Boone picking up the ball and turning the 5-4-3. But a replay showed just why Cabrera barely even ran it, having fouled the ball off his foot, the ball bounding up the line in fair territory and going over the bag likewise, Boone snaring it behind the bag. Then Lee flied out to the right field wall for the third out.
The eighth inning passing by mostly without mischief, the ninth began with two swift outs, before Boone booted Cabrera's grounder and Lee followed with a single that pushed the first Marlin runner of the night past second and home to spoil the shutout bid and end Pettitte's otherwise satisfying evening. He stepped to the dugout to a cacophonous ovation as Contreras hustled in from the pen and got rid of Conine in a hurry. And the Yankees had evened up the Series, with Mike Mussina scheduled to go against Josh Beckett for Game Three.
"It'll be nice to get back to the heat and the humidity," said Lee after the game, referencing the October Bronx chill. "That's how we like it." The Yankees are somewhat bent upon multiplying both.
WHAT THE LOSER SAW:
Lost in Translation
—Peter Schilling Jr.
Monday, October 20
There was a fascinating moment at the end of this rather unfascinating game, when Hideki Matsui was asked the usual number of clichés, how he felt about belting his first inning homer, if he feels pressure in New York, from Japan, etc. His translator, a sheepish young woman, nodded repeatedly as she listened to the questions, then engaged in a long dialogue with the Japanese slugger. After this conversation, she then turned and gave a terse response, like "he is happy to be here". What the hell were they saying? At one point, she even responded, "I think he is happy that his family is watching." She thinks? I guess he didn't say. It's amazing to me that this guy performs so well in the Big Apple, without speaking much English, if any at all. The other night, my good wife noticed Godzilla's concentration from the bench, and said, "Boy, he's really paying attention." What else does he have to do but concentrate? He can't talk with anyone. Imagine sitting on the bench, without understanding a thing the other players are saying,, and baseball is the only common bond. I suppose you could get a Ken Burns moment out of that—baseball is the world language, or some sap like that—but I'm just bowled over in admiration for his success in the face of this isolation.
Matsui is one of the great gears that turns the machine known as the New York Yankees, and although I love to watch him play, just as I do Derek Jeter and Roger Clemens and David Wells (to name but a few of my favorites), I have to wonder what it must be like to be a true Yankees fan. These guys play great baseball, and as a baseball fan, that's what I want to see.
But this is on an intellectual, as opposed to a visceral, level. A person like myself, a Tigers fan, cannot bring tears up for the Yanks or the Marlins, can't really shout as loudly and with such primitive fire as a Cubs fan when Sammy Sosa clobbers a game winning run. I firmly believe that it is the true fan, the person who follows his or her team through thick or thin that gets the most out of these games in the October Country.
Perhaps these are the sour grapes the grow on the Detroit Tiger vine, but you can see a pattern here: we have two distinctly different teams, and two distinctly different fan bases. Where yesterday I was all confused about the nature of the Marlins fan, today I'm wondering about the mindset of the Yankee rooter. How can they love—from the bottom of their hearts—such entrenched success? Toward the end of last night's contest, I was struck by the enthusiasm of the fans. What keeps these guys going? There's an old adage that goes, "Rooting for the Yankees is like rooting for U. S. Steel", and I think there's truth in that. I mean you've got guys out there wearing jackets with "Number One Yankees Fan!" and signs with "Three More to Go!" I guess it must have been the depth of heartbreak to have to wait, what, three years before another World Series title?
Sure, they have a lot to root for. This is one hell of a team, filled with what I consider top-notch players. As I said, I like these guys, individually: Pettitte doing his usual stare-down, not really engaging his enemy as strutting for them, like he's about to blow a kiss. He threw a hell of a game, kept these Marlins bats cold, even after a semi-troublesome first. These Yanks got production from Mr. Matsui in the first, and it was really all they needed. And it was a coast to the ninth, when the Marlins spoiled Pettitte's shut-out bid, and his complete game, with a run and some threatening offense, which Contreras snuffed. And so the Series is tied, one game apiece.
I'm sure if you go through the boroughs of Gotham you'll find the bars and taverns filled with Yankees fans, not hard to do in these golden years. I'm also sure you had more die-hards in their so-called lean years than the Marlins did. But smooth seas don't make skilled sailors, and how can any fan have a true sense of heartbreak, or joy, when they've been there every year, win a handful of World Championships, and come back each spring with a whole new roster which typically includes the best new free agent on the market. These guys would have to cry to one another, because no one outside of New York cares if they lose. It's a whole different language than what the rest of both leagues speak. Ask any one of us Sox fans, Cubs fans, Twins fans, Tigers fans, and it's the highs after the lows that make our love so genuine. Although I absolutely hate saying this, it works here: this is what life is like. Enduring the crap that takes you to the sublime moments, like a World Series. You live for the Yanks, you don't get to be an underdog. Ever.
It's true, there's a certain mentality out there, the need to associate with a winner, the foundation of a bandwagon jumper. But the Yankees are the eternal bandwagon, and—even in spite of Steinbrenner—it's a relatively smooth drive to the post-season. Doesn't anyone ever grow tired of the same old ride?

GAME ONE: MARLINS 3, YANQUIS 2
WHAT THE WINNER SAW:
The Face of a Marlin
—Peter Schilling Jr.
Sunday, October 19
Somewhere down on the humid coast of Florida are Marlins fans. I don't know who they are or what their habits may be, but I'm curious. I've been given to making light of the Marlins, and their non-existent fan base; I've guessed that they are few and far between, that most Floridians root for the teams from their past addresses: Yankees fans, Red Sox fans, and considering the number of Michiganders sunning themselves in their declining years, Tigers fans. Sure, the Marlins fighting the Yanks in the Series means that there will be a new crop of bandwagon-jumpers, punks donning black and teal and jumping up and down in the ballpark, thinking they love the Marlins.
But there have got to be some fans who are die-hards. There has to be: every team has these supporters. While it's unlikely there's a "Marlins Nation", there's at least enough to fill a church basement and rival any number of 12-step groups, right? Tired men and women who, when they learned that baseball, Major League Baseball (and not just Spring Training) was coming down to their neck of the swamp, well, holy cow, they became rooters. They probably swelled their chests with pride when the team was called the Marlins, the same name as the semi-fabled minor league club, the same one Satchel Paige once hurled for (when he was an old man). Baseball came to Florida, and someone was there to cheer.
This lucky bunch, small or large tho' it may be, saw success in five short years. Their eyes bulged out of their head when the evil Mr. Huizenga spent bucketloads of money to build a championship. If we think about it, it was a bold maneuver that paid off: I mean, really, how many teams in the past decade have had any success simply buying a championship? You can't count the Yankees, because they work on a combination of money and farm-raised talent, and they didn't do it in just a year. But I think it's foolishness to suggest that anyone can do it: the Rangers, Orioles, Mets, and Dodgers—to name but a few—have all tried, and failed miserably. Of course, as we all know, what made that championship team so depressing was that the bastard Huizenga immediately dismantled the team the following year, perhaps destroying a delicate fan base.
But a die-hard is a die-hard. Believe me, I'm a Tigers fan, and I'll tell you, if you fall in love with a team, really follow the team through the vicissitudes, then it takes more than a jerk who owns Blockbuster Video to ruin your taste for a mangy club. So even as the Marlins went through hard times, even as they were reviled by the rest of baseball, even while they played in a horrible stadium, there were some fans, down there in Miami, who followed this team tenaciously. This is their year. The year of fruition, when they can watch all these young guys fight and claw and capture first the pennant and maybe the World Series crown. And these good people—and I believe they are good people—have gotta be pretty damn proud. No matter what the outcome.
Last night's game was a beaut, and it was all Florida. No, Fox didn't see fit to cut away to the Mexico City Café, some steamy bar in the Everglades where the Fishbait Club (this is all made up, so don't go looking for it) gathered to root on their club. Forget it, Fox was too busy showing Robin Williams and the cast of "Skin" (none of whom looked happy) to bother with the handful of fans who were no doubt crying tears of joy right from the first. The rest of the world, if they haven't noticed already, got slapped upside the head right from the first: Juan Pierre christened this Series in grand style, as if to define the team that looks merely unstoppable: he bunted. And he didn't just lay a bunt down the line, he slapped it by David Wells, who looked as if he was too mesmerized by the ball to try and pick it up. Bunt, Pierre races down the line, first man on. And the gators 'neath the Spanish moss are wondering what all the ruckus is.
Then it's Castillo, slapping a Texas leaguer into shallow right, and Pierre, off with the swing of the bat, races to third. A bunt and a fly that barely clears the second-baseman's glove, and it's first and third? Against the Yankees? I was stunned; I'm guessing the New York faithful were stunned; again, all but a select handful of loyal followers were stunned. It was a sacrifice fly that sent Pierre in, and it's 1-0, Marlins in the first. Yankee Stadium was bit quieter after that.
I wouldn't call Brad Penny dominant. Then again, I wouldn't call David Wells dominant. They struck out four between them, but it was the Marlins that appeared in control the whole game, and especially one man, the formerly unknown Juan Pierre, he of the infield hit. The guy scored the first run, then knocked in the next two, the game winners, and did so not just with his bat, but with his baserunning. For there it was in the fifth, men on second and third, and he sends a line drive into left field. And lo and behold, Matsui lofts a throw in—a soft throw, mind you—that Aaron Boone, the hero of the ALCS, snags and should have thrown to home, to nail Juan Encarnacion by five feet. Only Juan Pierre was giving the appearance of racing toward second, and Boone fires to first, allowing what became the winning run to score, and failing to nail the swift Pierre. The Yanks took their runs on a Jeter single in the third, and a Williams solo blast in the sixth. But when Penny tired, in came the affable Dontrelle to shut them down, and Ugueth Urbina, trying his damnedest to wear a look as menacing as Roger Clemens, walked a couple of Yanks just to keep it interesting. But in the end there wasn't any Bronx magic tonight, for Soriano lunged at strike three, and Johnson popped out and the Marlins took game one.
Don't call this small-ball, because, as I'm sure the seventeen Marlins faithful will tell you, these guys can drill the ball as well. No, this is kitchen sink baseball. As this series progresses, I'm guessing that we'll see anything and everything that these guys can do, thrown at the Yanks, befuddling them. Game one and only seven singles for the Marlins, no extra base hits, enough to take a game from the Bombers in Bomber Central. Silencing thousands of fans who've been shouting for their Yanks all year. A young team that's fighting for.. who?
For the fans? Why, these Marlins probably know their season-ticket holders on a first-name basis. And when all is said and done, when the Marlins take the trophy or go down fighting, there's going to be someone, somewhere in a pastel colored apartment complex in the neon ugliness of Miami, who's going to shed some tears. I know this is sacrilege, but this select crowd will weep tears of joy or sorrow, hard-earned tears as legitimate as any from the eyes of Twins and Giants fans, as painful or as sublime as those from Chicago and Boston. I know it's hard to believe, and I don't know where they are, but somewhere, somehow, someone's is proud of these Florida Marlins.
WHAT THE LOSER SAW:
Grand Theft
—Jeff Kallman
Huntingon Beach, CA, Oct. 19
Derek Jeter's face in the bottom of the eighth told the story better than any scrivener. He split into a satchelmouthed grimace as the climbing rider of a fastball exploded past his sweeping third strike swing; then, back in the Yankee dugout, he shook his head in a look of momentary dazed admiration. He was just dispatched by Dontrelle Willis, for the second out of the eighth inning, as the upstart Marlins went on to finish what they had started as the World Series began. If the Yankees plan to land these Marlins, they're going to have to work for it.
The Marlins came out more like swift, surface-skimming mackerel from the first pitch, and it helped them skim a 3-2 Game One win over the Yankees, who may have spent as much of the game getting a read on the competition as trying to land them. For a team who opened the Series behind the pitcher with the best postseason record in the game's history (10-2, .833 winning percentage), it must have seemed as though they had been robbed.
In a sense, they were. Juan Pierre let the lords of the American League know that in the proverbial New York minute. He started the Series by bunting one up the middle that deflected off Yankee starter David Wells toward second baseman Alfonso Soriano, and the ball deadened just enough to let Monsieur Varoom beat it out. He gunned it as Luis Castillo swung and took third on the bloop Castillo nudged to the shortest right field grass. Just call him Juan Gone, ladies and gentlemen. (Listen up: if Ivan Rodriguez can wear a stolen a nickname, so can Juan Pierre.)
Then, I-Rod hit one to the depth of left center, deep enough that Pierre could have crawled home with the first Florida run as Bernie Williams made the catch. Castillo stole second between Miguel Cabrera popping out to the edge of the grass and Derrick Lee striking out on a sharp curve, but the Fish had the Yankees on the hook before a full inning was done.
The Yankees came out for their half of the first with ideas about two can play at that game, when Soriano led off against Brad Penny chopping one into the hole at shortstop and beating it out for a hit, when Alex Gonzalez's throw pulled Lee at first into just enough stretch. Before Nick Johnson could even think about swinging the bat, Soriano stole second. But Johnson struck out, Jeter fouled out to right, and Williams flied out to center, and so much for the Bronx Burners so far.
The Fish kept up the little-ball nibbling in the second. Prodigal son Jeff Conine lined a one-hop single to right, and Juan Encarnacion blooped a single to shallow center. But Gonzalez bounced one to third that Aaron Boone speared, stepping on third and winging it on for the inning-ending double play. Penny pitching proved slightly simpler in the Yankee second, with Jason Giambi going down swinging and the Boonebino frozen on strike three, a curve ball tight on the inside black.
That's one way to recuperate when you walk Jorge Posada following a leadoff flyout by Hideki Matsui. But Wells saw and raised in the top of the third, reeling in the Fish one-two-three for the first time in the game. And, then, the Empire stuck back in earnest for the first time. Sort of.
Karim Garcia hit a lofting short fly to left, bouncing up into the throwing hand of a sliding Cabrera, whose recovery took just long enough to let Garcia turn it into a double. The Yankee right fielder took third on Soriano's groundout to third and, after Johnson walked, scored when Jeter whacked an up-the-pipe single, Johnson taking third alertly on Pierre's none-too-strong throwing arm. Williams popped out to short left, but up came Matsui. Unfortunately, Matsui's destiny was to lead off the Yankee fourth. That was because Johnson was caught absolutely flatfoot off third. As the pitch went past Matsui, Florida third baseman Mike Lowell broke at once to the bag and Rodriguez fired a pickoff strike hitting Lowell dead on, leaving Johnson a dead duck and the Yankee mini-rally dead in the pond.
"This is just a suggestion," said Yankee coach Lee Mazzilli to Johnson back in the dugout. "But if you're a couple of steps off third, don't go back sliding. You go back sliding, you open up a lane for the catcher to throw."
Wells worked his first uninterrupted inning in the Florida fourth. Flyout to right center, flyout to center, then one heart in the throat moment when Lowell drove one toward the left field fence which had just enough not on it for Matsui to catch it right there. And then came what looked like a sharper Yankee threat. Matsui led off the bottom of the fourth with a low-line hopper to right for a single, and Posada walked. And Giambi stepped in, pumping his bat, but ripping a grounder to short that Gonzalez snatched like a shopper at a clearance sale, taking it to second himself on the quick step and firing for the double play. That left Matsui to watch from third as Boone grounded out to Lowell, grounding the Yankees once again.
Conine led off the Florida fifth with something Wells didn't often permit this year: a walk, before Encarnacion fought off an inward tailer to line a broken bat single over Soriano's head into short right, before Gonzalez pushed the pair to third with practically a line drive bunt. Then, Pierre singled past Jeter's starboard dive to left. As Conine crossed the plate, Matsui in left cranked a throw that had "Encarnacion, R.I.P." engraves under the stitching. Except that Boone cut it off, with time enough still to cut down Encarnacion, and threw instead to hold Pierre to a single. And after the Fish took the 3-1 lead, the Yankees went meekly in the bottom of the inning, wasting Garcia's leadoff rip for a single when Soriano grounded into a swing-and-swaying 6-4-3 before Johnson flied out to left.
Wells had his second easy inning with the Florida sixth: groundout to third, flyout to center, popout to second. Nothing to it. And the Yankees came up loaded in their half. Jeter made Lowell work for that grounder starting the inning, but right after Lowell threw out the Yankee instigator Williams drove one over the right center field fence, his first yard shot of the postseason cutting the Yankee deficit to two. Then, Matsui sliced a sharp single to right, and Trader Jack McKeon went to the Child Prodigy.
Willis had attracted early season attention to the Marlins with his first-half pitching, both the results (winning eight of his first ten career starts) and his animated pitching style. The latter makes him as fascinating to watch as what he does with it on his best outings. He is equal parts Fernando Valenzuela (the occasional heavens-up gaze as he winds up), Juan Marichal (the Rockette-high leg kick, though Willis now crooks his leg to a 45-degree angle in the lift, as opposed to Marichal's straight-up lift, like a railroad gate after the train is through the crossing), and Dick Van Dyke (the follow-through, straight from the Rob Petrie School of Dance).
And tonight he looked more like the pitcher who electrified the National League in the first half rather than the boy wonder who might have had too much, too soon, as Willis indeed looked down the stretch and in the previous postseason rounds. He would throw his first World Series pitches to Posada. And he got Posada to throw his bat at a threader, ripping it up the line to Lowell to force Matsui at second. Then, he went to nothing and two on Giambi while Posada occupied himself with stealing second. And after Giambi fought him to a two-and-two count, the Child Prodigy broke Giambi's bat enough to force the Yankee bombardier to flare one just over Willis's head, behind the mound. But Castillo hustled over to grab the tracer and whip it to Lee for the barehand tag play, and the Fish had dodged the Yankee harpoons once again.
Wells in the seventh began looking drained in the tank, when Conine drew his second leadoff walk of the ninth as Wells seemed to draw less of his fastball. But Encarnacion flied to left center and Gonzalez popped out in front of home plate, Boone scampering down to catch it. Then he hit Pierre up and in, apparently trying to keep Pierre from bunting, but with men on first and second he got Castillo to ground right to Jeter, who forced Pierre at second to end the threat.
The Yankees went back to work on the deficit and the Child Prodigy made short enough work of that effort, though not without at least one amusing sideshow. Boone led off popping one foul to the left side of the third base line, angling toward the Marlins' dugout. Down bounded Lowell from third, over bounded Rodriguez from behind the plate, and they gave each other a fleeting glance, and that was enough to let the ball hit the deck and give Boone new life. The hero who'd swung his way into the pennant two nights earlier now swung his way into a flyout to center field, before pinch-hitter Juan Rivera struck out swinging on a dead fish of a changeup, before Soriano grounded out to the mound.
With Jeff Nelson relieving Wells for the top of the eighth, the Marlins put the press against the Yankees once again. Cabrera drew a one-out walk and Lee singled to right, with Cabrera not letting a quick case of tanglefoot rounding second stop him from making third, on a belly first slide resembling George Reeves on the invisible wires, for those flying sequences in the ancient Superman television show. But with first and third, Lowell popped out to the right field line and Conine fouled out to first.
The Yankees finally harpooned into Willis, after that randy strikeout against Jeter, when Williams singled through the hole at short and Matsui singled Williams to third. McKeon now went to Ugueth Urbina, who fanned Posada to get out of the jam, and Jose Contreras relieved Nelson to work the Florida ninth.
Contreras looked at first as though he would skin the Fish handily enough, striking out Encarnacion and Gonzalez swinging. But then he put the Marlins on speed dial, walking Pierre and falling behind 2-0 to Castillo. Pierre took off as Castillo swung on strike two, and Posada's throw arrived just high enough that Jeter's tag landed on Pierre's belly sliding tail about a second after Pierre's hands clutched second base. Castillo swung for a hit and got nothing but a grounder to first, however, and the Yankees got the bottom of the ninth. And they put the bomp right back into the Yankee Stadium throng when Giambi led off with a walk and Boone strode to the plate.
This time, however, Boone wasn't planning to bomb a walkoff shot. He went up to push to second Giambi's pinch runner, David Dellucci, at least on the first two pitches. But he swung hit and run on a one-and-one count and lofted to right for the first out. Ruben Sierra pinch hit for Rivera and worked a walk out of Urbina, who had blown three of his previous five save opportunities when they involved more than one inning's work. And here came Soriano, fighting Urbina to a full count with two men on. But Urbina smashed one for strike three on the inside corner, before getting Johnson to smash a pop to shallow center to end it.
"We have to work hard," said Giambi to reporters after the game, "to keep the first two guys off base. They can steal bases at will." Or, off Wells. But before they think first blood in Yankee Stadium means they can steal a World Series, the Marlins might care to give the Boston Red Sox and the Minnesota Twins a call. They, too, believed bagging the first one in the Bronx was a grand omen.

PETER SEZ: MARLINS IN SIX
—Peter Schilling Jr.
Saturday, October 18
So there's thing out there called the "Stockholm Syndrome", in which, to quote one source, "the abused respond to their abusers", and come to love them. This is the only reason I can think of that Jeff's picking the New York Yankees to win the World Series this year. After his beloved Sox got muffed by the Yanks yesterday (and really, when the Yanks are in the way of the Sox going anywhere, when do they triumph. The answer? Never!), Jeff was no doubt out there on the West Coast, crying in his beer… or whatever it is they drink out there in the land of Schwarzenegger. Jeff, what is it they drink? Anyway, poor Jeff's thinking his beloved Sox were going to the Series, when up steps another Yankee infielder to steal the pennant away. And he was so impressed that he's thinking the Yanks'll take it all. Sorry, Jeff, it ain't happening.
Understand that I'm no Cubs fan. I jumped on their bandwagon, sure, because I figured this was going to be one exciting year for the Chicago nine. True, I felt a lump in my throat, which I washed down quickly, and wished it could have been otherwise. But the reality is that I admire these Marlins because… well, because they're the best team in baseball.
History? The Marlins don't care about history, about the "mystique" in Yankee Stadium. The Yankees? 26 Titles? Who cares? These kid have pinstripes, too, and they wear black. That's the rage, you know. The Marlins want to be the rage. And when it comes to baseball, they do it better than anyone else. Why, Jeff, the record even sez so! You've been watching Fox out there in Southern Cal, you know that the Marlins have the best record in baseball since old McKeon took over! It's going to take more than those glares from Roger Clemens to ruffle these Marlins.
Let's look at the Matchups. The Marlins have the edge at, let's see… Catcher, First Base, Third Base, pretty much even in Left, the edge in Center (yeah, I'll take Pierre over the creaky Bernie Williams any day), and Right. I say their pitchers are better, because even though your men are tested by time, hallowed by experience, the Marlins just don't care. And don't give me this Mariano hoo-hah. A dominating pitcher? Like Mark Prior you mean? But he's got history? You need more than history, Jeffums, to make this whole thing work.
Yes, the Marlins are annoying, they beat the Cubbies, play in a lousy football field and still have the slimy residue of Wayne Huizenga dripping off their only World Series banner. But they're still the best team. And, Jeff, that's what counts in the October Country.
JEFF SEZ: PICK 'EM – SEVEN
—Jeff Kallman
Huntingon Beach, CA, Oct. 18
Well, now. The Stockholm Syndrome? Aside from my never having said a word about loving the Yankees, if I were truly coming to love my abuser I'd be writing an essay outlining the reasons why Grady Little and Dusty Baker should not be measured for a joint necktie party.
My friend Peter seems to have mistaken my choice of team focus regarding our World Series coverage for my choice of World Series winner. My words went exactly like this: The Red Sox fan in me is hugely tempted to take the Marlins. On the other hand... Gentle reader, you may translate as you please, but I would not exactly translate that to equal an irrevocable prediction.
Just how much recalibration the Peter Meter requires is not for me to say, but in one sense I should be grateful that the Series did not come down to the Cubs and the Red Sox. If it had, Las Vegas would have become the psychiatric capital of the Western world. And predicting the unpredictable is something along the line of mining platinum with a swizzle stick.
A lifetime of baseball that includes rooting for the impossible – candor requires me to confess that I am a New York Mets fan since the day they were born (yes, children, I am old enough to have seen Marvelous Marv Throneberry, live and in person, and I actually lived to speak thereof), and a Boston Red Sox fan since the 1967 pennant race (yes, children, 1986 was the year in which I set my community's record for consumption – Valium) – has taught me that two laws above all in baseball prove intractable and irrevocable. One, authored by a Yankee of long and grand standing: It ain't over until it's over. The second, authored by a St. Louis Cardinal known too familiarly as a human time bomb to be remembered as a fine enough pitcher otherwise: In baseball, there's just one word – you never know. Yogi Berra and Joaquin Andujar make only slightly less odd a couple than Ben and What's-Her-Face. But they make an awful lot more sense.
Certainly more sense than trying to convince a man who is as genial an editor as he is challenged as an analyst that the only thing safe to predict for this Series is anything goes and probably will, in spite of the Marlins being not quite the better team.
Oho, but they have the best record in baseball since May! Oho, but that still left them with the sixth best record in baseball (you can look it up). And it still left them with the same need the Yankees proved to need in nailing or getting one more crack at nailing the pennant: the opposing manager's (annual, in Dusty Baker's case) brain fart, when confronted with an empty-tank starting pitcher. (Shall we dare remind Marlin fans that, had Trader Jack McKeon chosen not to live by the intentional walk to Barry Bonds – the Giants with Bonds are a threshing machine; the Giants without Bonds, or without him allowed to swing the bat, are a seized DeSoto - the Fish might have been croquettes in the Division Series?)
The good news for Marlin fans: They scored more runs (40) nailing their pennant than the Yankees did nailing theirs (28). The good news for Yankee fans: the Marlins were outscored en route the pennant (by two runs), while the Yankees did the outscoring en route theirs (by four runs). The good news for Marlin fans: They probably have the slightly more in-tune bats, they surely have the slightly less vulnerable middle relief corps, and Ivan Rodriguez. The good news for Yankee fans: If the Fish can't swim past the Yankees' effective and war-tested starters early and often, the Yankees still have The Mariano to hook and land them.
On the other hand, the Marlins better hope they can pry at least one win out of the Yankees in the Stadium. They were 38-43 on the road during the season. They were better at home than the Yankees (53-28 to 50-32), but they only get three whacks maximum in Pro Player Stadium, thanks to a Texas Ranger in the All-Star Game. And even those may not be guaranteed: the Yankees on the road this year were 51-29.
Mystique and Aura are not invulnerable to the charms of Chance and Circumstance, but Chance and Circumstance have been known on occasion to forget the condoms. We'll see at the end of the seventh game. And that is the only prediction you will get from me.
EDITOR'S NOTE
—Peter Schilling Jr.
So Jeff's too afeared to even make a pick. Typical of a Mets fan, living in California. What, the Dodgers ain't good enough for ya'?
However, during the Series, Mudville will be having dueling coverage of every World Series game. Look for dispatches from Messrs. Kallman and Schilling each day, Peter on the Fish, Jeff on the Bombers.
CONTRIBUTOR'S SUB-NOTE
—Jeff Kallman
Ah, the mud(ville)slinging has begun in earnest.
But we must forgive our poor Peter. He is, after all, a Detroit Tiger fan at heart.
Surely he is worthy of our deepest sympathy, that the 2003 Tigers – compared so often to the 1962 Mets, whose artistry in futility they challenged, albeit in record alone – merely sucked. The Original Mets, of course, sucked…with style. (Of course, the Original Mets had an unfair advantage. Mr. Trammell, you're no Casey Stengel.)
(One of them, in fact, was Don Zimmer, nowadays the geriatric heavyweight champion who moonlights as a Yankee bench coach. Zimmer made the Mets' first-ever regular season play in the field. He picked off a sharp grounder and threw the ball about six miles over first baseman Gil Hodges's head. The Mets traded him the moment he lashed a base hit to break an oh-for-thirtysomething season-opening batting slump because, it was said plausibly, they wanted to get value for him while he was hot.)
On the other hand, the Tigers did manage to achieve one thing that eluded even the Original Mets. The Tigers actually managed to lose a game 14-8…in extra innings. Then, again, the 1962 Mets avoided that one the easy way. They never played an extra-inning game that season.
And I still say it's pick 'em, in seven games.
FOR DISPATCHES FROM THE REST OF THE OCTOBER COUNTRY, PLEASE SEE ARCHIVES.